The Bishop at Work
In the tenth book of his Confessions, Augustine tells us that his life as a bishop was a life of sin, and he repents of all the sins of his ministry—all the rancor and conflict, all the failures at love and peace.
A striking example of Augustine's ministerial errors occurred in 423 as he was turning 70. When Antonius, a pastor he had ordained, turned out to be a destructive scoundrel, Augustine offered to retire.
He confessed, "In my haste and lack of due precaution, I have inflicted a tragedy."
The pope, of course, declined the bishop's resignation. But Augustine, having a high view of the church and a low view of human nature, never considered himself to be above reproach. He was not a saint in his own day, but a working pastor committed to caring for his congregation, administering justice, and communicating God's truth.
Pastoral duties
Though Augustine had many administrative obligations as bishop, his first duty was serving God and the Christian community at Hippo. He baptized, catechized, and administered the sacraments to his people. "Thy servants, my brothers," he said of them, "Thy sons, my masters."
Augustine had been a monk before becoming a bishop, and he continued his monastic lifestyle—with significant modifications, such as living in the bishop's house instead of the monastery. A man in his position was expected to show hospitality, and frequent guests would shatter the silence of a monastic community.
In the fourth century, the Christian bishop was an important figure in the Roman world. Because of this, Augustine was particularly concerned with the image he and his fellow clergy presented. So many critics pounced on perceived failings that Augustine once quoted the psalmist's words, "They that sat in the gate spoke ...
You have reached the end of this Article Preview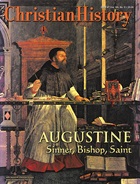 07/01/2000