Beyond the Double Bolted Door
In assessing Lewis's significance as a Christian apologist, the key is chronology. He is, of course. best known for his writings of the '40s, and it is as the author of such celebrated books as Mere Christianity, The Pilgrim's Regress, Surprised by Joy, The Problem of Pain, and Miracles that he is revered by many readers. But these early books are neither the whole nor even the most important part of the story. There is another more disconcerting side to the C.S. Lewis phenomenon—namely, the dark legacy of his later years. If we ignore or minimize it, we will be left with a very one-sided and highly misleading picture of Lewis and end up valuing him for the wrong reasons.
There is, of course, no denying the fact that, so far as the prospect for Christian apologetics is concerned, the Lewis of the '40s is a far more encouraging figure. In these early books he fairly leaps from the page as the 20th century's foremost defender of the faith, "the Apostle to the Skeptics" confronting his unbelieving or lukewarm contemporaries with the "case for Christianity." Seldom has an apologist succeeded so completely in conveying the impression that Reason is on the side of Faith and that it is not the believer but the unbeliever for whom philosophical discussion poses problems. No issue is too difficult for him, no opponent too formidable. His effortless brilliance and confident finality irresistibly suggest that it is the intellectuals who have made simple things difficult and that it is high time to call a halt to these proceedings. If the real theologians had done their job, "there would have been no place for me," he ruefully observes. But they have not and so there is. He will make things simple again.
Everything is eminently sensible ...
You have reached the end of this Article Preview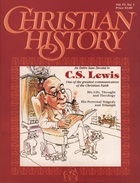 07/01/1985