Escape from Babylon
In 1684, having "suffered through eight months [of] exactions and quartering by the soldiery, for the religion with much evil," Judith Giton, a Huguenot from southern France, decided to escape. With her mother, two of her brothers, and a servant, she slipped away at night, leaving soldiers sleeping in the family bed.
The group traveled north along the Rhone and Rhine rivers to Holland and reached England in 1685. They stayed three months in London waiting for a Carolina-bound ship, then crossed the Atlantic under terrible conditions. Judith's mother died of scarlet fever, and a storm forced them to stop in Bermuda, where the captain, having "committed certain rascalities," was imprisoned and the ship seized. Penniless, Judith and her brothers indentured themselves to pay for their passage to South Carolina.
Once in Charleston, Judith endured "affliction … sickness, pestilence, famine, [and] poverty," and her elder brother, Louis, died of a fever. After a few years, though, Judith "had it the way she wanted it" and thanked "God [for giving] her good grace to have been able to withstand all sorts of trials."
Judith's story contains many elements common to the Huguenot exodus: the quartering of troops, a night flight, a long and risky voyage filled with hardships and sorrows—but also survival, hope, freedom, and prosperity.
New Babylon
In the 1660s, France's King Louis XIV launched a crusade to convert his Protestant subjects to Catholicism. According to the powerful "one king, one faith" principle, the country's stability depended on the monarch and his people all following the same religion. For years legal and religious harassment alternated with financial measures to entice Huguenots back into the Catholic fold.
Huguenots, who ...
You have reached the end of this Article Preview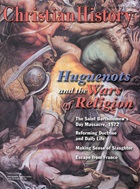 07/01/2001