Huguenots and the Wars of Religion: The Gallery - The Inner Circle
Catherine de Médicis
1519-1589
"Madame la Serpente"
In 1575 a heavily slanted piece of propaganda called the "Marvellous discourse on the life, actions and misconduct of Catherine de Médicis, queen mother" disparaged France's acting regent as "a woman, a foreigner, and hated by everyone." The first two charges were undeniably true, and she had double-crossed enough people to make the third nearly true as well.
Catherine became queen of France by family connections and chance. A member of the ruling Médicis family of Florence, she was betrothed at age 12 to the prince who would later become France's King Henri II. France sought the match not because Catherine had money or beauty (she was described as being small and thin, having indelicate features and bulging eyes, a Médicis trait), but because of her distant relation to Pope Clement VII.
She married in 1533, at age 14, then failed to bear children for the next 10 years. The entire court wished Henri to divorce her, but he chose instead to take a mistress, Diane of Poitiers. Upset by the affair but powerless to do anything about it, Catherine turned to astrologers and magicians in a frantic quest to bear a child. In 1544 she finally delivered a future king, Francis. She eventually bore seven other children, two of whom would also rule France in turn. Still, Henri rejected her.
When she could not win Henri's love, Catherine befriended Marguerite of Navarre, Henri's aunt. Marguerite was a great friend of John Calvin and supported the Protestants with money and position. According to Protestant writers, Marguerite persuaded Catherine to begin reading her Bible. An archbishop was so horrified that he confiscated the Bible, likening Catherine's behavior to eating from the forbidden ...
You have reached the end of this Article Preview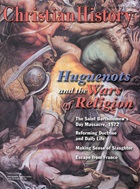 07/01/2001