Genius with a Message
Critics over the past century have sought to identify the fundamental Chesterton. He offers an answer in Orthodoxy: "The central Christian theology … is the best root of energy and sound ethics." Indeed, theology informs and connects everything he wrote: about 50 Father Brown stories; more than 85 major works in genres including novel, short story, poem, play, biography, lecture, and literary criticism; some 1,600 articles in The Illustrated London News; and countless other pieces.
Essays
Though Chesterton did not proclaim Christian faith until adulthood, inklings of faith appear even in his earliest work. More than 200 notebooks filled with his youthful writings were discovered just a decade ago beneath old clothing in a storage trunk in England, affording a glimpse of his developing spiritual thought and literary style. His early short story "The Wine of Cana," for example, includes the weighty line, "On that last night, in that dark garret, knowing that the gibbet hung above him, he gave those he loved a last symbol and memory."
Chesterton's first published work, a short piece in The Speaker, appeared in 1892. Soon his art college magazine, The Quarto, printed more of his work. Even as he studied visual art, he prepared for a career in publishing.
Chesterton's ability to write succinct, lively prose—and to write it quickly—suited him perfectly for newspaper publishing. London's Daily News picked him up in 1899, and The Illustrated London News gave him a regular column in 1905. His output proved so valuable that many of the essays were republished in book form.
Though produced for the boisterous world of Fleet Street, Chesterton's essays feature beautiful metaphors and deep theological insights. For example, "In Defence of ...
You have reached the end of this Article Preview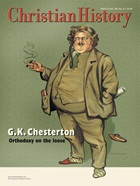 07/01/2002