Jonathan Edwards: Did You Know?
Evangelical Co-founder
A man was born three months before Edwards and an ocean away who was to share the New England divine's twin passions for the church and the life of the mind. That man was John Wesley, the founder of Methodism. The two never met, but they labored for their Lord on two continents, together helping to birth the movement called "evangelicalism." Wesley read Edwards appreciatively and reprinted his Religious Affections, revising where the Puritan theologian's Calvinism was most strongly expressed.
Revival Mediator
Edwards, a strong supporter of the Great Awakening, nevertheless took a cautious view of what went on in the revivals. On one hand, Edwards criticized the Awakening enthusiast James Davenport, who hotly insisted that many New England ministers were in fact unconverted and bound for hell, and who once burned a pile of classic Christian texts he considered insufficiently spiritual. On the other, Edwards debated the Boston rationalist clergyman Charles Chauncy, who argued true religion was a matter of the mind rather than the heart. "We should distinguish the good from the bad," instructed Edwards, "and not judge of the whole by a part" (see p. 42).
Chocolate Addict
Consumed as a beverage usually at breakfast, "cakes" of chocolate were in steady demand in the Edwards household. The family often had to rely on travelers to Boston to procure it. In one letter, Edward begs the courier to save some of the chocolate he paid for. "If you will bring what remains," he wrote, "you will much oblige your humble servant."
Missionary to Mohicans
Most people don't associate Jonathan Edwards with James Fenimore Cooper's The Last of the Mohicans. But during Edwards's stint in Stockbridge, Mohican children boarded at the ...
You have reached the end of this Article Preview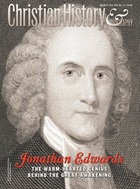 01/01/2003