A Mind on Fire
A battered file box, deep in the basement of Yale University's Beinecke Library, contains a startling memorial to the final years of Jonathan Edwards's life.
In other similar boxes, stacks of notebooks contain in their neat pages crisp rows of Edwards's spidery handwriting. Their content is remarkable: profound, vivid, masterfully argued, piercingly clear—the fruit of a lifetime of fervent thinking about the nature of God, humankind, and the world. But their physical form is unremarkable.
Not so the notebooks contained in this box. One after another is stitched together from a riot of scrap paper: Half a page of a friend's letter, left blank under the signature. The wide margin of a Boston newspaper. Several large sheets with semi-circles cut out of them.
Across these makeshift pages runs Edwards's cursive script—tiny, cramped. It crawls from edge to edge of the paper, even between the lines of newsprint, wasting no fraction of white space.
These notebooks date from the great theologian's Stockbridge phase—the period between 1751 and 1758. Ejected from his comfortable Connecticut Valley church after 21 years of loyal service, Edwards eked out these years with his wife and seven of their children at a mission church on Massachusetts's western frontier. There, paper was presumably scarce, expensive, or both.
Some of the sheets sewn together in the Stockbridge notebooks were off-cuts from the manufacture of paper fans, which his children decorated and sold to add a few dollars to the family coffer. The other scraps would once have landed in the rubbish pile—but they could not be wasted any more.
In thriving Northampton, the pastor-theologian had enjoyed the resources of a prominent pastorate in a major New England town (though his ...
You have reached the end of this Article Preview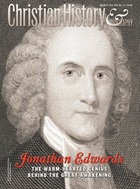 01/01/2003