Temple & Sword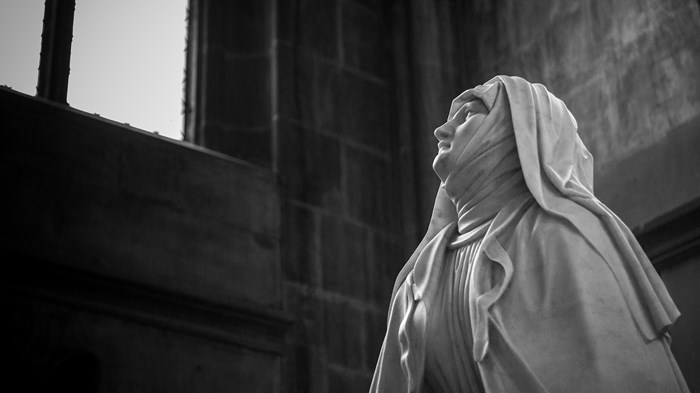 Luke's elegant two-volume literary work, the Gospel and the Acts of the Apostles, is shaped, plot-wise, like a 45 degree angle. At the vertex, the point of departure, is a Jewish girl of a Jewish family, keeping the feasts, expecting the consolation of Israel. She lives within pilgrimage distance of Jerusalem, not obligated like the men to attend the thrice-yearly observances in the holy city, yet pious and devoted to the God who brought her ancestors out of Egypt. Their collective story long antedates the occupying Romans, who are but another checkmark on a long list of oppressors—at this point, anyway, no worse than Philistines or Assyrians or Babylonians.
The temple of the Jews dates back 1,000 years (as the center of righteous worship, if not the building itself), and it is this temple that marks the distance along Luke's angle-shaped story, as the one axis veers further and further from the other. By the end of the historian's tale, the temple, soon to be obliterated, has been left behind by persecuted Christians who are driven away from the center of Israel's faith in order to convert the nations. The angle opens wide into an embrace that must, of necessity, include all the Gentiles. But trace its lines back, back before the expulsion, before the trial of the Messiah, the cleansing and the controversies, and you find the young Mary with her husband Joseph, presenting the child Jesus, just as Zechariah prophesied in that same Temple months before.
A temple-dwelling girl
In the popular imagination of the church, this is not Mary's first visit to the temple. Apocryphal though they are, the 2nd-century Greek Protevangelium of James and its 8th-century Latin copycat the Gospel of Pseudo-Matthew fill ...
You have reached the end of this Article Preview