Imaginative Faith
Like many people, I owe my discovery of George MacDonald to C. S. Lewis. I met him first in Surprised by Joy as the author of the book that marked a crucial turning point in Lewis's pilgrimage to faith. I met him again in The Great Divorce as the narrator's gentle Scottish guide through heaven. From there I found my way to The Princess and the Goblin, Phantastes, and Sir Gibbie. Many books later, I realized the full truth of Lewis's statement: "I have never concealed the fact that I regarded him as my master; indeed I fancy I have never written a book in which I did not quote from him." So many of the theological ideas and emphases I associated with Lewis were there waiting for me in MacDonald—the same abundant imagination, the same longing for something beyond, the same pervasive sense of joy at the center of existence.
So it is very fitting, as Christian History & Biography prepares a new C. S. Lewis issue for Fall 2005, to look first at the man whose writings shaped him more than any other's. And when we do so, what we find is not just a preface to Lewis but a fascinating story in its own right. Though 20th-century readers have focused on MacDonald as a writer of fantasies and fairy tales with unique symbolic depth, he was a man of wide interests and gifts. Poet, pastor, popular novelist, lecturer on English literature, literary critic, translator, humanitarian, actor, mystic, theorist of the imagination, friend of theologians, artists, and orphans, father of 11 children—he is a window into the Victorian period in all its dizzying diversity.
MacDonald was not a systematic theologian, and it is impossible to fit him into a neatly defined box. He attracts (and sometimes offends) Protestants and Catholics, evangelicals ...
You have reached the end of this Article Preview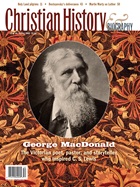 04/01/2005