Making Doctrine Dance
Dorothy L. Sayers once described G. K. Chesterton as a kind of "Christian liberator" who blew into the church "gusts of fresh air, in which the dead leaves of doctrine danced with all the energy and indecorum of Our Lady's Tumbler." Sayers's comment comes very near the mark in capturing the role C. S. Lewis has played since Chesterton's death in 1936. Like Chesterton before him, to the English-speaking church Lewis has been nothing less than a Christian liberator.
As early as 1942, C. S. Lewis was already a bestselling author. In 1947, he was heralded as "one of the most influential spokesmen for Christianity in the English-speaking world" by Time magazine, which featured his picture on the front cover. "With erudition, good humor and skill," the Time article proclaimed, "Lewis is writing about religion for a generation of religion-hungry readers brought up on a diet of 'scientific' jargon and Freudian clichés. … [He] is one of a growing band of heretics among modern intellectuals: an intellectual who believes in God … not a mild and vague belief, for he accepts 'all the articles of the Christian faith.'"
The article attributed much of Lewis's remarkable success to his "talent for putting old-fashioned truths into a modern idiom" and giving "a strictly unorthodox presentation of strict orthodoxy." Three years earlier, The Times Literary Supplement had already suggested something similar: "Mr. Lewis has a quite unique power of making Theology attractive, exciting and (one might almost say) an uproariously fascinating quest."
But Lewis, like Chesterton, made the dead leaves of doctrine ...
You have reached the end of this Article Preview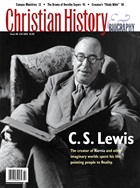 10/01/2005