Living for Christ Among Muslims: Wa'el Khoury
A Christian student's faith is tested in a Gaza school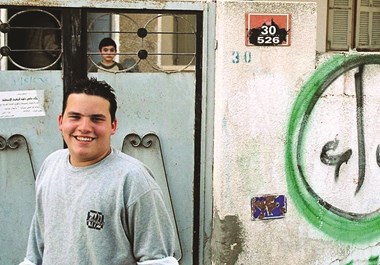 Transferring to a Muslim School
Science and math aren't Wa'el Khoury's best subjects. Instead, the senior likes to write and wants to go into journalism. So, he and his parents decided that he needed to transfer from his private Christian high school to a nearby all-boys public school focused on the arts.
But the transition was a bigger deal than just switching from a private school to a public one. Wa'el lives in the Gaza Strip, an area near Israel controlled by the Palestinian Authority. At his new school, Wa'el is the only committed Christ follower. Most of his classmates are Muslim. In fact, the school is sympathetic to the Islamic militant group, Hamas, which has been responsi-ble for many of the region's suicide bombings.
Rough First Day
Wa'el came home depressed after his first day at his new school in September 2004. "It was so hard. Everything was different," Wa'el says. He hadn't expected his teachers to openly ask about his faith, but they did ask him—in front of his 40 classmates. Even worse: Wa'el was afraid to respond and kept silent. But still, everybody knew Wa'el was a Christian because he came from a Christian school. Even his name, Khoury, reveals his religion: It means "priest" in his native language, Arabic.
Wa'el, 16, accepted Christ more than 10 years ago. Active in the youth group and an Awana leader at Gaza Baptist Church, he plays drums for Sunday night worship. And he brings food and medicine to needy children in Gaza's refugee camps with his dad and his best friend, Elias.
Test of Faith
One cold day, Wa'el had an extra gym class while the Muslim students had a class where they learn about their faith. That day's lesson was on Christianity. The instructor told the students that Christians have to love their enemies and must turn the other cheek if hit. The students also learned that if you ask for a Christian's coat, he must give it to you. After class let out, 20 boys took Wa'el to a corner of the building.
"We just learned that if we ask for your coat, you have to give it to us," one boy said.
Wa'el took off his jacket and handed it to him.
"No, no, that's OK," the boy said. "You can put it back on." Most of the boys then walked away. But three stayed. One of the three had often mocked Wa'el's faith and hurled anti-Christian insults at him. Wa'el was nervous. But then, one of the three asked Wa'el about the cross. So he told them about Jesus.
Since that day, the three friends have asked Wa'el more questions. He even walks home from school with them. Wa'el has prayed for them and encouraged them to drop by his weekly Bible study.
Asked Daily About Jesus
Wa'el's Christian walk isn't easy. "People are always looking for me to do something wrong or to trip up so that it will discredit Christianity," he says. But Wa'el is glad to have the opportunities he does. Not only do Wa'el's classmates know he's a Christian, but they are curious about his faith. Most have never met a committed Christian believer. "Each day, somebody asks me about Jesus," he says.
read these next

Fearful how others might respond during class, I always slouched in my desk.

What to do when you've got too much to do.