7 Reasons to Leave Your Caps Lock Button Alone – And What to Do Instead
Do you want your writing to feel less inflammatory, and be more readable and influential? Try these suggestions.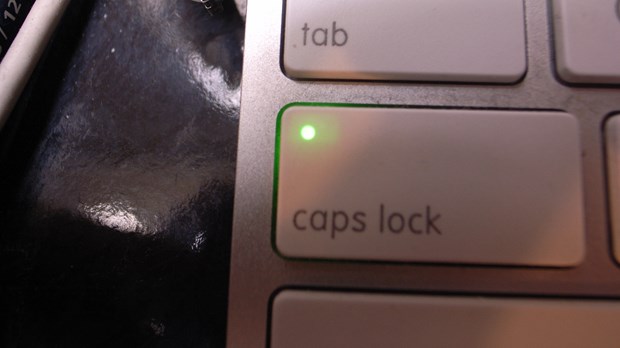 Image: Toshiyuki IMAI | Flickr
I love dialog.
It's great hearing and reading other people's opinions. Even when they disagree with me.
Because good communication matters to me, I want to enhance all of our dialog – especially online – with a friendly word of advice to a particular group of people.
I call them All Caps Communicators.
You know who they are. You may even be one of them. These are the folks who love the CAPS LOCK button on their keyboard.
If you are an All Caps Communicator, I want to address you on behalf of everyone who has attempted to read your blog, your Facebook post or your comment, by giving you one word of friendly advice.
Stop.
Please.
(I guess that's two words).
You think your Caps Lock button is helping you. It's not.
You think it punches things up. It doesn't.
When you use the Caps Lock button, you're not making your point more strongly, you're losing us entirely.
It actually does the opposite of what you want it to do. When you use the Caps Lock button, you're not making your point more strongly, you're losing us entirely.
Here are 7 things that happen when you overuse the Caps Lock button:
1. It Feels Like You're Yelling
All Caps is how people yell in text. You may not see it when you write it, but when I read something in All Caps, I wonder WHY IS THIS PERSON YELLING AT ME! (Can you see it now? I hope so.)
2. It Encourages Argument, Not Conversation
Because it feels like yelling, it also feels angry. And the appearance of anger breeds more anger. And more arguments. It doesn't pull people in, it pushes them away.
People don't like being yelled at. It makes them want to either walk away or fight back, not engage in conversation.
3. It Looks Amateurish
Pick up any book or read any blog by a respected writer. You can go through an entire book, or years of blog posts with little or no use of All Caps.
Good writers write well. They don't need All Caps to get their point across.
4. It's Hard to Read
Here's another look at my opening paragraphs, this time with All Caps overused as I have often seen it done:
"I love DIALOG.
It's great HEARING and READING other people's opinions. Even when they DISAGREE with me.
Because GOOD COMMUNICATION MATTERS TO ME, I want to ENHANCE all of our DIALOG – ESPECIALLY ONLINE – with a FRIENDLY word of ADVICE to a PARTICULAR GROUP of PEOPLE.
I CALL THEM ALL CAPS COMMUNICATORS."
No, that's not an exaggeration. I wish it was. But I've seen it done. So have you.
Support our work. Subscribe to CT and get one year free.
Join in the conversation about this post on Facebook.