Reflections On My Last Conversation With David Mainse (1936–2017)
David Mainse was an innovator who used whatever technology would help him reach the greatest number of people for Jesus.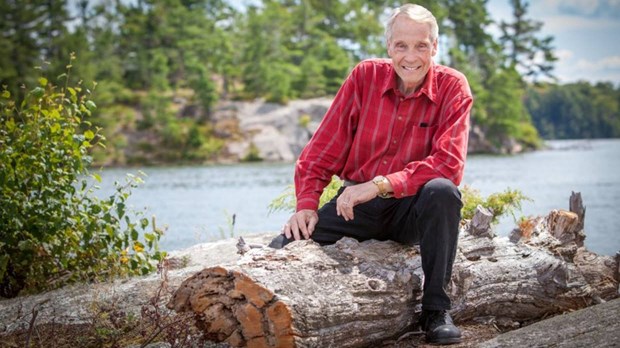 I want to be like David Mainse when I grow up.
Unless you've lived in Canada, or in certain pockets of the US, you may not be aware of David Mainse. So here's a short bio of a man who influenced so many in his 81 years.
David Mainse was the young pastor of a small church in a tiny Canadian town in the 1960s, when he was struck by the idea of using the still-relatively-new medium of television to spread the gospel.
So he started Crossroads Christian Communications, eventually founding and hosting its daily flagship show, 100 Huntley Street, for decades.
But David was as far removed from the televangelist stereotype as a person could be. Always gentle, modest and humble – even comically naive at times – David always seemed like the last person who would want the spotlight.
But he found himself in that position because his greatest passion was to worship Jesus and share Christ's love with others. And he did so by using whatever technology would allow him to reach the greatest number of people possible.
On Monday of this week, David Mainse went to be with Jesus.
Innovation For The Sake Of The Gospel
The last conversation I had with David Mainse was over dinner after a family funeral. (My father has worked with David since my parents attended college with him and his wife, Norma Jean. And my sister Karen married into David's family). After bustling about the room and catching up with friends and family members, he and I ended up at a table next to each other.
His eyes lit up as he shared his latest ideas about communicating the gospel in new ways.
Most of the conversations happening around us were about the past – as they usually are at a funeral. But David had no interest in that. Instead, his eyes lit up as he shared his latest ideas about communicating the gospel in new ways.
David and I chatted about our common interest in blogging, then he talked my ear off about his upcoming projects, including building a podcasting studio in his new home in Florida, and working with students at the nearby Bible college.
Although in his late 70s at the time, David virtually trembled with childlike excitement as he giddily told me about the latest technology and its potential to break down barriers and reach people for Jesus.
That's why I want to be like David Mainse when I grow up. I never want to lose the wonder of sharing Jesus with people. Using whatever means necessary, but always keeping the focus on Jesus.
David Mainse was a pioneer, a family friend, and a gentle, but passionate follower of Jesus.
He will be missed. But his legacy will live on through the family he and Norma Jean raised, the ministries he started, and the countless lives he touched for Jesus. Including mine.
Pivot is a part of CT's Blog Forum. Support the work of CT. Subscribe and get one year free.
The views of the blogger do not necessarily reflect those of Christianity Today.
Join in the conversation about this post on Facebook.