Joel Osteen, Houston Relief, And The Downside Of The Megachurch Spotlight
Not everyone is required to be a first responder. Or even to respond to every crisis. That's simply not possible. But, as the body of Christ, we're all called to respond.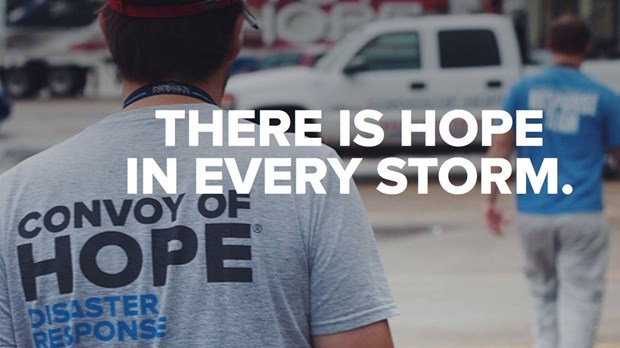 Image: convoyofhope.org
Houston is devastated. But, even as the flood waters recede, the crisis is far from over. The people of Houston need our help, prayers and material assistance.
So, before I get to the subject of this post, here's a link to the best relief organization I know. Convoy of Hope has been on the ground in Houston from the very start, and they consistently have a "Best Of" rating by every group that keeps track of such agencies. SEND YOUR MONETARY GIFTS to Convoy of Hope at this link.
Now to today's blog post.
There were dozens, maybe hundreds of churches in Houston that didn't open their doors to help flood relief victims last week. But you only heard about one, didn't you?
Joel Osteen and Lakewood Church were the subject of a lot of nasty rumors that, at best, were only partially true, if at all. Not because they're the only Houston church that didn't respond with aid or because they were late in responding – in fact, they are responding on a massive level.
Lakewood and Osteen were the villains-du-jour because they're the most visible church in town – maybe in the country. All it takes is one person with a smart phone, an agenda and selective editing to make any of us look guilty of almost anything. It's especially easy if they're trying to make us look guilty of not doing something.
Joel Osteen is not above criticism. If you enjoy the spotlight when times are good, you have to take the heat when things go bad.
But that criticism needs to be three things: fair, true and helpful.
No matter how big, how wealthy, how famous or even how wrong someone may be, no one deserves to have lies told about them.
No matter how big, how wealthy, how famous or even how wrong someone may be, no one deserves to have lies told about them.
In his article, Some Christians Hate Joel Osteen More Than They Love The Truth. And That's Wrong.,my fellow CT blogger and teller of uncomfortable truths, Ed Stetzer correctly pointed out the hypocrisy of Christians being far too willing to believe falsehoods about someone just because they disagree with them.
Want The Spotlight? It Gets Hot
The glare of the megachurch spotlight may seem wonderful when thousands are showing up for church, millions are watching on TV, and your books are on bestseller lists, but it can quickly become a searing indictment on every flaw. Whether those flaws are small or large, real or imagined.
The reason we don't know the names of the other churches or pastors in Houston who haven't opened their doors yet is because, unlike Lakewood Church, those other churches are small. They fly under the radar all the time.
Pivot is a part of CT's Blog Forum. Support the work of CT. Subscribe and get one year free.
The views of the blogger do not necessarily reflect those of Christianity Today.
Join in the conversation about this post on Facebook.