6 Reasons Many Pastors Don't Need An Office Any More
For most pastors, a desk in an office is one of the least creative spaces imaginable.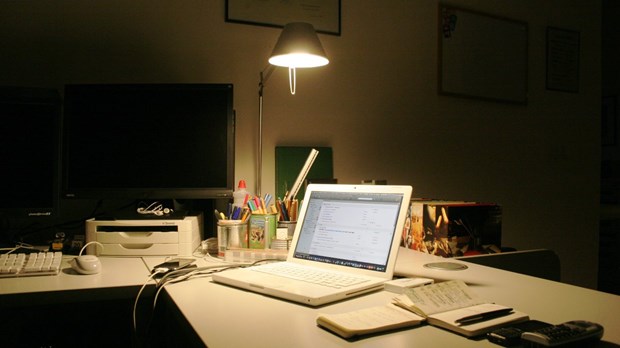 The pastor's office is a time-honored tradition whose moment has come and gone for a lot of us.
Over the last 35-plus years of ministry, I have spent thousands of hours in my office. Joyful, frustrating, heartbreaking, boring, wonderful, life-changing hours. Hours spent studying, praying, counseling, crying, laughing, discipling, planning, organizing and so much more.
I wouldn't give them up for anything.
But I have given up my church office. And I doubt I'll ever go back to having one again.
Some of that is because I'm now the teaching pastor, not the lead pastor. But even if that change hadn't been made recently, I would probably have given up my office anyway.
If you have a church office and it works for you and the church, by all means keep using it. This isn't about convincing anyone to give it up. But if you don't have one, or if you spend as little time in your office as I spent in mine in recent years, here are some reasons why you may not need one at all.
1. We're More Mobile Now
Until very recently, whenever anyone started a business or planted a church, the first order of business was to buy or rent a building.
Even the local plumber, who spent all day driving from house to house, would rent an office, set up a phone line, hang a sign, and hire an employee to sit there. Why? Because someone had to answer the phone, bill clients, send receipts and so on.
Not any more. Most everything that plumber needs today, from answering calls to setting up appointments to running a credit card, and issuing a receipt can be done on a phone app from their truck.
Many of us don't need an office, because we don't need a desk.
Many of us don't need an office, because we don't need a desk. And we don't need a desk because we don't need to put a phone on it. Or a typewriter. Or a computer, a Rolodex, or a fax machine.
It's been more than a decade since I used a desk to spread out an array of Bible translations, a lexicon, a Bible encyclopedia, a concordance and commentaries to prepare a sermon. All those tools are on my laptop now, which fits very efficiently on… my lap.
2. People Don't Drop By As Much As They Used To
Our mobile devices have also changed what people expect of their pastor. Instead of walking into the church office, most people make their initial contact with a pastor by phone, email or social media.
Then, if they want to meet face-to-face (an important aspect of ministry that will always be needed) there are multiple options for that. Like a local coffee shop or a multi-function office at the church facility.
Pivot is a part of CT's Blog Forum. Support the work of CT. Subscribe and get one year free.
The views of the blogger do not necessarily reflect those of Christianity Today.
Join in the conversation about this post on Facebook.