Small Church Essentials Is Here!
It's not about wanting churches to be small; it's about wanting small churches to be great.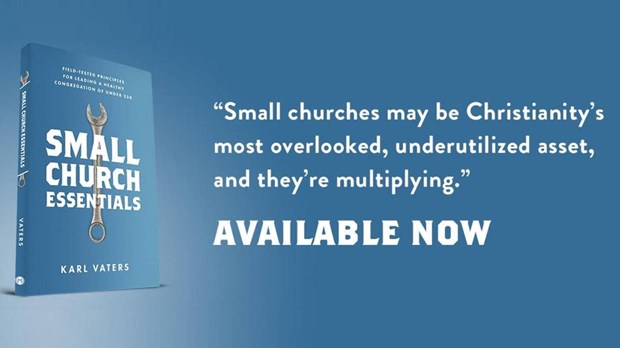 Today is the day!
You can now buy your copy of my new book, Small Church Essentials, for yourself or for a church leader you know.
Small Church Essentials is the result of all the time I've spent writing for, speaking with, and – most importantly – listening to small church pastors and other leaders over the five years since writing The Grasshopper Myth.
To get an idea of what this new book is about, here's a snippet from the intro:
This is a book about small churches.
For small churches.
By a small church pastor of over 30 years.
This book is not about how to get your small church to become a big church. It's also not about how small churches are better than big churches. (They're not.) And it's definitely not about settling for less. It's not about wanting churches to be small; it's about wanting small churches to be great.
In my 30 years of pastoring, I've learned that small churches can't be great without three things:
They have to believe they can be great.

They need to see what a great small church looks like.

They need resources designed for great small churches.
Karl Vaters gets it. In Small Church Essentials, Vaters provides insight and ideas for the pastoral majority—those leading smaller churches under 250 in attendance.
– Thom S. Rainer
So I started searching and asking questions that felt awkward, even a little rebellious.
"What if there's another answer, besides getting bigger?"
"What if there's a way for small churches to be dynamic and healthy?"
"What if, instead of helping our churches be more effective, pushing them to get bigger is actually stealing time, energy and resources from other ideas that might actually make us more effective at the size we are right now?"
Those questions equipped me with a new set of lenses that are helping me see church leadership in a different way. I'm discovering principles that I would not have found if I hadn't shifted my focus away from church growth. Church growth principles aren't wrong; it's just that there's more to it.
This book is my attempt to organize and present some of the more foundational and universal small church principles I've learned. Through these new lenses, we can start seeing church health, not as a means to growth, but as a means to effectiveness.
These are the small church essentials.
Endorsements
I've been blessed to receive some wonderful endorsements from many church leaders, some of whom will be well-known to you, but also from so many of my fellow in-the-trenches small church leaders. Here are a few of them:
Pivot is a part of CT's Blog Forum. Support the work of CT. Subscribe and get one year free.
The views of the blogger do not necessarily reflect those of Christianity Today.
Join in the conversation about this post on Facebook.