Churches Renovate Their Building, On Average, Every 30 Years? Really?!
A church building doesn't have to be big, fancy or cutting-edge. But it needs to facilitate the mission.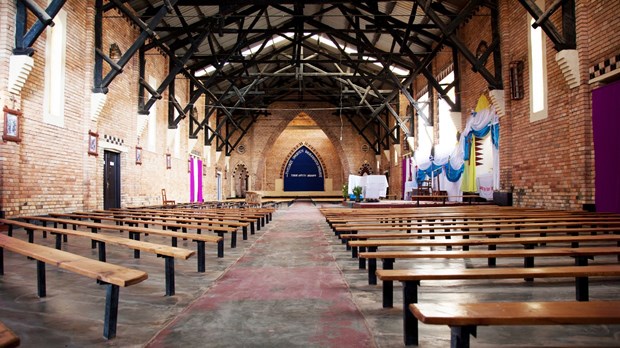 Uh… Wow.
Every 30 years?
Yes, those are the stats, according to a church renovation expert I heard at a recent conference.
By the time his company is called in to help a church renovate their sanctuary, lobby, exterior or anything significant, it's been three full decades since any part of their facility has been updated in any meaningful way.
That's. Too. Long.
Updating On A Budget (Or NO Budget)
I'm aware of how costly it is to update church facilities – especially in a smaller church that may not even be paying the pastor. But there's an alternative to waiting thirty years to do anything, then breaking the bank to overhaul everything at once.
Look around your church building and ask yourself this simple question. "What part of our facility is currently the least effective at doing what we want it to do?"
Look around your church building and ask this simple question. "What part of our facility is currently the least effective at doing what we want it to do?"
Then fix that.
One piece at a time.
Paint, repair, clean, update, declutter.
That last one can have big impact. Toss the clutter.
Most church buildings can undergo a significant upgrade without costing a penny just by getting rid of the build-up of excess stuff that regular attenders fail to see, but that newcomers have to wade through. (I recently heard about a church that had an upright piano stored in the men's room, of all places!)
Make Your Building More Ministry-Friendly
Church buildings should serve the ministry. So take the part of the facility that's doing the poorest job of moving the ministry forward and upgrade it.
Not everything at once. One part at a time.
Then, after that's done, look around again and ask "now, what's the least effective part of the facility?" and get to fixing that.
If you do that regularly you'll never find yourself in an expensive, outdated, overdue, 30-year rut.
Three decades is too long for a church facility to wait for an overhaul any more. Even in small towns, life is moving too fast for that.
Dust collects, paint fades, weeds grow and styles change. But most of the people who are in the church building every week don't notice. Some of us haven't even dusted the fake plants on the platform in a decade, let alone replaced, updated or removed them.
Use It Or Lose It
Churches don't need to have a building to do effective ministry. But if we do have one, it should serve the ministry. Instead, too many of our buildings are detracting from the mission, not serving it.
Pivot is a part of CT's Blog Forum. Support the work of CT. Subscribe and get one year free.
The views of the blogger do not necessarily reflect those of Christianity Today.
Join in the conversation about this post on Facebook.