Can This Work In A Small Church?
Episode 006, 35

min
August 05, 2021
Video Ministry Using Devices You Already Own, EP 006
Craig Forrest has spent decades shooting and editing film and video for ministries and network TV. He's passionate about helping people communicate the message of Jesus in a compelling way. In this interview I talk with him about video ideas and tips that can be used in any size of church on a limited or nonexistent budget.
Episode 004, 57

min
July 15, 2021
Decision Fatigue, with Ira Antoine, EP 004
Karl Vaters interviews Ira Antoine about Decision Fatigue. You know, that exhaustion you feel when there are Just. Too. Many. Decisions. To. Be. Made.
Episode 005, 1

hr

7

min
July 06, 2021
Small Church Conferences, EP 005
This week's podcast is a free-flowing conversation about the importance of Small Church Conferences with Dale Sellers, Chris Vitarelli and Carl & Kalani Culley.
Episode 001, 39

min
June 16, 2021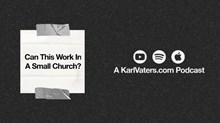 Image: Logo created by Solomon Joy | Joyetic.com
Can A Small Church Be An Effective Church? (Podcast Transcript) EP 001
Follow Karl
Read More from Karl
Free Newsletters