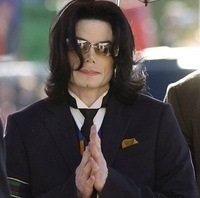 JUNE 30 UPDATE:
The Bully! Pulpit, a pop culture news blog, reports that rumors that Michael Jackson accepted Christ may have been false. Jackson, who died of cardiac arrest last week at the age of 50, was rumored by some to have become a Christian just weeks before his death.
Gospel singer Andrae Crouch and his twin sister, singer and minister, Sandra, apparently visited Jackson recently at the pop star's request, and they did pray together. But exactly what they prayed depends on whom you ask.
Last Friday, gospel duo Mary Mary blogged on their Facebook page that Jackson "prayed with Sandra and Andre and accepted Christ into his heart. Now he's singing in the heavenly choir! Our hearts rejoice!"
But the Bully! Pulpit reported that that wasn't the full story, or even fully accurate.
On her Facebook page, Sandra Crouch wrote, "It has been brought to my attention that several media outlets have been erroneously reporting that my brother, Andrae Crouch and me met our dear friend Michael Jackson several weeks prior to his death so he could accept Christ. This is incorrect and absolutely not true.
"We loved and respected Michael enormously and we've been friends with him for many, many years, and are deeply saddened by his sudden and tragic death.We recently met with Michael to discuss recording two songs with our choir for his newest recording project. Michael always had a respect and curiosity for spiritual things. During our meeting, not unlike many other creative/music meetings we've had with him the past, we sang together, prayed together and had a wonderful time. We are praying for Michael's family and desire nothing less than God's best for them."
A spokesman for Andrae Crouch added that at the meeting, Jackson "asked for prayer concerning the anointing of the Holy Spirit . . . So Andrae and Sandra explained to him about the anointing and about Jesus."
But did the legendary singer pray to receive Christ? The Crouch spokesman responded: "He did NOT reject Jesus or the prayer when (we) prayed, and gladly joined in prayer . . . There was NO actual 'sinners prayer' however, but they did talk and pray about Jesus and the anointing of the Holy Spirit."
The Bully! Pulpit story also said that Jackson, forbidden as a child from celebrating Christmas because of his Jehovah's Witness faith, still had Christmas decorations up in his home in June.