The U.S. Supreme Court has turned down an appeal from a high school football coach who was banned from bowing his head during student-led team prayers.
Without comment Monday, the nation's highest court ended Coach Marcus Borden's efforts to overturn a township decision that as a public employee, Borden cannot mix religion with his work as a coach.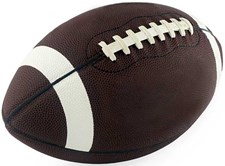 The high court's decision leaves intact a federal appeals court's April decision that Borden's desire to bow his head and take a knee during team prayer is an endorsement of religious activity at a public school.
Neither Borden, who has been the football coach at East Brunswick High School since 1983, nor his attorney, Ronald Riccio, could be reached for comment.
Borden has been fighting for the right to bow and kneel in prayer with his team since November 2005, when he filed a federal lawsuit arguing the school district's regulations were overly broad. He won a U.S. District Court ruling in July 2006 in which a judge decided those rules were unconstitutional, but that decision was reversed at the appellate level.
Riccio asked the Supreme Court in October to review the appeals court decision, arguing then that Borden's case was of national importance because "it addresses what public school educators are permitted to say and do when public school students engage in religious
activities in their presence."
Richard Katskee, an attorney with Americans United for Separation of Church and State, which represented the board of education in court, said in a prepared statement that "children have a clear right to attend public schools without religious pressures being brought to bear by
school personnel."
"Coach Borden was out of bounds, and the courts were right to blow the whistle," Katskee said. "I hope that other coaches and school personnel learn a lesson from this."
Todd Simmens, president of the East Brunswick Board of Education, in the same statement said "public school officials simply may not engage with students in religious activity."
"The board of education and district officials have, throughout this case, made certain no school employee supervises or otherwise participates in any type of prayer with our students," Simmens said. "Needless to say, the board is pleased that, in this case, the courts reaffirmed this long-standing constitutional principle."
The school district said Borden had a long history of leading prayers before he was ordered to stop after complaints from some parents. Borden resigned as coach in protest of the school board ruling in 2005, but rescinded the resignation within a week and hired Riccio to represent him in his quest to coach the team the way he had for more than two decades.