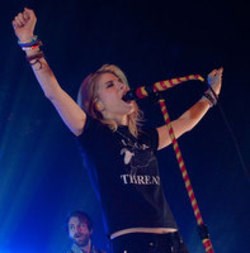 When musicians Josh and Zac Farro posted their side of the story that led to their departure from the platinum-selling pop-punk band Paramore, they said their decision came in part from a deepening faith divide in the group.
"We were all growing further apart," read the statement the brothers released late last week. "Suddenly the band had split into two sides."
Though not officially a Christian band and never signed with a Christian label, members of Tennessee-based Paramore have often talked about their personal beliefs. They even visited Willow Creek Community Church in 2008 for a brief concert and Q&A session.
"Our faith is very important to us," Josh Farro told the BBC in 2008. "It's obviously going to come out in our music because if someone believes something then their worldview is going to come out in anything they do. But we're not out here to preach to kids, we're out here because we love music."
In 2007, lead singer Hayley Williams agonized in a LiveJournal post about lyrics she wrote which she said used God's name "in vain."
"I'm ashamed to say that, although I'm a believer in Jesus Christ and I claim him as my God, when I wrote those lyrics I wasn't addressing him," Williams wrote. "I might have led some of y'all to believe that I take my saviour lightly, and I don't."
But the Farro brothers say that when they sat down to put together their most recent album, Brand New Eyes, Williams had changed.
"Hayley presented lyrics to us that were really negative and we didn't agree with. For example, 'the truth never set me free,' which contradicts what the Bible says in John 8:32." ("Then you will know the truth, and the truth will set you free.")
"The truth never set me free / so I did it myself," Williams sings in the Brand New Eyes song "Careful."
The brothers Farro also quoted Amos 3:3 from the New Living Translation: "Can two people walk together without agreeing on the direction?"
Josh Farro seemed content with spiritual message of Brand New Eyes in a 2009 Houston Chronicle interview, but now the brothers are claiming that lead singer Williams' influence over the band forced them to "roll over and let it go."
"We fought her about how her lyrics misrepresented our band and what we stood for, but in the end she got her way," they wrote.
As the former bandmates exchange blog posts and videos, Zac Farro has already joined a new band called Tunnel.
(Photo credit: Flickr, "Paramore-13")