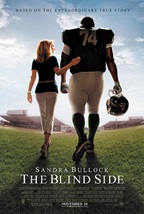 The Blind Side, which shattered box office expectations, catapulted Sandra Bullock to the in-demand actress list again, and was embraced by Christians, was named the No. 1 Truly Moving Picture of 2009 by Heartland.
Heartland Truly Moving Pictures, based in Indianapolis, honors "theatrically released films that meet Heartland's mission of emphasizing the best of the human spirit."
Calling The Blind Side "a valuable lesson on compassion," Heartland says the film "shares the inspiring true story of a strong, courageous woman and her family who are compelled to adopt a young man despite their differences and backgrounds, showing what it means for a family to unite in order to help someone that is less fortunate than themselves."
Also in the list, Invictus was No. 2, followed by The Horse Boy, Up, and The Cove. For the whole list, click here.