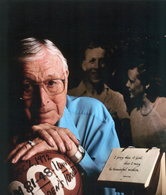 Hall of Famer John Wooden, who died Friday just four months shy of his 100th birthday, was most known as the greatest coach who ever lived, leading UCLA's men's basketball team to 10 national championships, including an astonishing seven straight from 1967 to 1973, a stretch that included 88 consecutive victories.
That's how he's most remembered. But perhaps he'll be best remembered as a mentor, a friend, a loving husband and father, and a source of endless wisdom and grace to hundreds of players, thousands of coaches, and millions of fans and admirers through the decades and around the world. Wooden has long said that his wisdom came primarily from two sources—his earthly father, Joshua Wooden, and from his heavenly Father.
Wooden, a devout Christian, read his Bible daily. His favorite passage was 1 Corinthians 13—truths he has especially embraced since the death of Nellie, his wife of 53 years, on March 21, 1985. In the 25 years since, Wooden has written a love letter to Nellie on the 21st of every month, stacking them on the pillow on which she slept through the five-plus decades of their marriage. ESPN columnist Rick Reilly nicely chronicled the Wooden's love affair in this touching video last fall:
Wooden often spoke of the wisdom attained from his father: "When I graduated from our little three-room grade school in Centerton, Indiana, I got dressed up in clean overalls for the big event. My dad gave me something that day that would shape my entire life: my work, my marriage, my goals, my philosophy. It was a card on which he had written a few guidelines. I still carry it with me. On one side of the card, Dad had written out his creed. At the top of the paper, it said 'Seven Things to Do.'"
Those seven things:
1. Be true to yourself.
2. Help others.
3. Make each day your masterpiece.
4. Drink deeply from good books, especially the Bible.
5. Make friendship a fine art.
6. Build a shelter against a rainy day.
7. Pray for guidance and give thanks for your blessings every day.
Wooden would go on to expand on his dad's seven points, building his own famous Pyramid of Success, a "blueprint," so to speak, for living a life of excellence. Wooden defined success as "peace of mind which is a direct result of self-satisfaction in knowing you did your best to become the best that you are capable of becoming."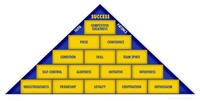 The Pyramid of Success in particular, and Wooden's wisdom in general, are the foundations for The John Wooden Course which is today used by corporations, coaches, and churches use for teaching principles of character, leadership, collaboration, sportsmanship, and more.
Wooden was born Oct. 14, 1910, in Hall, Ind., moving with his family to Centerton, Ind, in 1918 and then to Martinsville, Ind., when he was 14. He began coaching in 1932 at Dayton (Ky.) High School, spending two years there. He spent the next nine years at South Bend (Ind.) Central High School, coaching basketball, baseball and tennis and teaching English. After World War II, Wooden coached at Indiana Teacher's College (now named Indiana State University) in Terre Haute, Indiana, from 1946 to 1948. He went on from there to his storied career at UCLA.
His long list of honors include the Presidential Medal of Freedom, the nation's highest civilian award; being named by ESPN as the greatest coach of the 20th century; and being the first person selected to the Basketball Hall of Fame as both a player and coach.
Wooden authored numerous books. His faith-based books include Coach Wooden's Pyramid of Success, One on One, and A Game Plan for Life: The Power of Mentoring, which was released on his 99th birthday last October. Other publications include They Call Me Coach and Wooden on Leadership: How to Create a Winning Organization.
Abraham Lincoln was Wooden's hero. When The Sporting News asked him why, Wooden replied, "I've been called by some a common man. Lincoln was a common man. He had love for everybody. He had as much sympathy for the Southerners who had lost their lives as for the Northerners who had lost their lives. And his Gettysburg address is one of the greatest things ever written. And I think his second inaugural address—'With malice toward none, with charity for all'—was really something. At the end of the terrible war, when they were discussing reparations to the South, the Secretary of State, who was critical of Mr. Lincoln, said, 'You're supposed to destroy your enemies, not make friends of them.' And his answer was, 'Am I not destroying the enemy when I make a friend of him?' That's a statement."

As a coach, Wooden had three rules for his players—don't use profanity, be on time, and never criticize a teammate. His players were the recipients of countless words of wisdom that went on to become somewhat famous Wooden-isms, quotes that were practically a book of proverbs themselves. Such as:
• "It's the little details that are vital. Little things make big things happen."
• "Talent is God given. Be humble. Fame is man-given. Be grateful. Conceit is self-given. Be careful."
• "Don't let what you cannot do interfere with what you can do."
• "Basketball is not the ultimate. It is of small importance in comparison to the total life we live. There is only one kind of life that truly wins, and that is the one that places faith in the hands of the Savior. Until that is done, we are on an aimless course that runs in circles and goes nowhere."
• "Material possessions, winning scores, and great reputations are meaningless in the eyes of the Lord, because He knows what we really are and that is all that matters."
• "You can't let praise or criticism get to you. It's a weakness to get caught up in either one."
• "It is what we learn after we know it all that really counts."
• "If you're not making mistakes, then you're not doing anything. I'm positive that a doer makes mistakes."
• "Be more concerned with your character than your reputation, because your character is what you really are, while your reputation is merely what others think you are."
• "A coach is someone who can give correction without causing resentment."
• "The worst thing about new books is that they keep us from reading the old ones."
• "There are many things that are essential to arriving at true peace of mind, and one of the most important is faith, which cannot be acquired without prayer."
"Coach Wooden didn't just inspire legendary basketball teams at UCLA," UCLA Chancellor Gene Block said in October. "By radiating integrity and by his dedication to hard work, he has had a profound influence on generations of students here. He is the best kind of leader there is."
Wooden wasn't afraid of dying. In recent years, he has been fond of reciting a poem written by former UCLA and NBA player Swen Nader:
Once I was afraid of dying,

terrified of ever-lying,

petrified of leaving family, home and friends.

Thoughts of absence from my dear ones,

brought a melancholy tear once,

and a dredful fear of when life ends.

But those days are long behind me,

fear of leaving does not bind me,

and departure does not hold a single care.

Peace does comfort as I ponder,

a reunion in the yonder,

with my dearest one who is waiting for me there.
Here's a video about Wooden's philosophy of caring, where he talks about his admiration for Mother Teresa, noting that "real joy comes from doing for others":
And here's Wooden, not too long ago, reflecting on basketball, life, and death: