A few conservative activists accuse Obama of intentionally ignoring Easter, while others are taking issue with his choice of church. Last week, President Obama hosted the second annual Easter Prayer Breakfast at the White House. On Easter, President and his family attended Easter services at historic Shiloh Baptist Church in Washington. Monday featured the annual White House Easter Roll. But in today's political climate, even Easter can be controversial.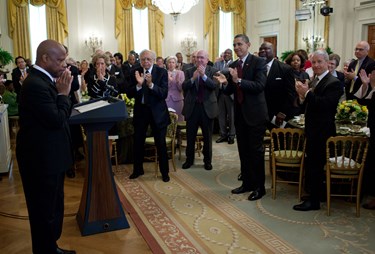 When a member of the White House press corp asked on Monday why the president did not issue an Easter proclamation, Jay Carney said that Obama and his family went to church to celebrate Easter, but he was unsure if a proclamation was sent out.
For the American Family Association (AFA) the lack of an official proclamation was "an intentional act of disrespect." The AFA said he ignored Easter, but "he has released statements in honor of Ramadan, Eid-ul-Fitr, Hajj and Eid-ul-Adha, holidays which most Americans cannot pronounce and certainly do not celebrate." The AFA encouraged people to send an e-mail to the president over the issue.
The lack of proclamation was featured in a Fox News story that was subsequently picked up by the Southern Baptist Ethics & Religious Liberty Commission, which referenced it on Twitter: "The White House failed to release a statement recognizing the national observance of #Easter or Good Friday. http://ow.ly/4Hoo8 @foxnews"
While the White House did not issue a proclamation, it did host an Easter prayer breakfast April 19 with around 130 Christian leaders in attendance. Obama initiated the prayer breakfast last year. In his remarks at the breakfast, Obama explained the purpose for the breakfast and the importance of Easter:
"I wanted to host this breakfast for a simple reason -– because as busy as we are, as many tasks as pile up, during this season, we are reminded that there's something about the resurrection – something about the resurrection of our savior, Jesus Christ, that puts everything else in perspective," Obama said. "…And we're reminded that in that moment, he took on the sins of the world – past, present and future – and he extended to us that unfathomable gift of grace and salvation through his death and resurrection."
The Family Research Council FRC noted that the group of clergy included clergy from "non-traditional groups, among them clergy from homosexual and pro-homosexual denominations, one considered a forerunner in shaping homosexual theology."
In a very different take on the breakfast, ThinkProgress.com criticized the breakfast for featuring two prominent "anti-LGBT pastors," Bishop T.D. Jakes and Pastor Tim Keller, who "preach that homosexuality is among the sins for which individuals should seek repentance."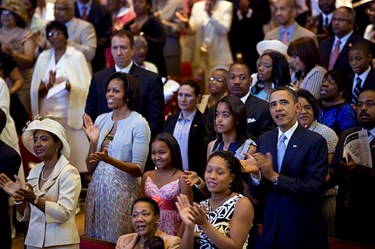 Fox News hosts Bill O'Reilly and Sean Hannity have each featured stories on the pastor of Shiloh Baptist Church where the president and his family attended Easter services. The pastor of the church is Rev. Wallace Smith, who is Dean of the Smith School of Christian Ministries at the Palmer Theological Seminary, the seminary of Eastern University.
The Fox hosts focused on statements Smith made around Martin Luther King Day last year at Eastern University when Smith was asked to speak on the topic of racism. Hannity compared Smith to Obama's long-time pastor in Chicago Jeremiah Wright. Since the broadcasts on Fox, Shiloh Baptist Church has received threatening phone calls and emails, the Washington Post reported.
Obama is not the first president to go to worship at the church; Ronald Reagan, George H.W. Bush, and Bill Clinton have also attended the church.
Both the church and its pastor have been generally viewed as positive in the past. For example, in May 2006, First Lady Laura Bush went to the church. Shiloh was helping helping seniors sign up for Medicare prescription drug plans.
"I want to thank Reverend Smith from the Shiloh Baptist Church here. Shiloh is one of the most distinguished churches in Washington, one of the oldest African American churches, and it's a church that's always had a ministry into the community," Bush said.
Images: (1) President Barack Obama, T.D. Jakes, (behind the President) and others stand and applaud Wintley Phipps at the Easter Prayer Breakfast in the East Room of the White House April 19, 2011. (Official White House Photo by Pete Souza)
(2) President Barack Obama, First Lady Michelle Obama, and daughters Malia and Sasha attend Easter church service at Shiloh Baptist Church in Washington, D.C., Sunday, April 24, 2011.
(Official White House Photo by Pete Souza)