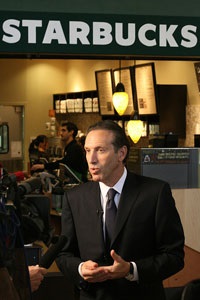 Starbucks CEO Howard Schultz will no longer be one of the key speakers at this week's Willow Creek Global Leadership Summit. He will be replaced by Pat Lencioni, author of The Five Disfunctions of a Team. Lencioni has spoken at the summit three previous times, and according to his published bio, was rated among the conference's "top 10 general sessions of all time. "
Schultz, who has not previously spoken at Willow Creek's leadership summit, recently published his second book on leadership, Onward: How Starbucks Fought for Its Life without Losing Its Soul.
His appearance was the subject of an online campaign at Change.org, launched by political consultant Asher Huey.
"Schultz is speaking at a conference hosted at and sponsored by an anti-gay church. This is unacceptable," the petition said. "The church has long practiced dangerous conversion therapy to 'cure' people of their sexual orientation. … Not denouncing these practices is tacit approval."
It is not known at this time whether Schultz's withdrawal has anything to do with the campaign on homosexuality, and a staffer at Willow Creek Community Church said Schultz did not provide a statement regarding his withdrawal. Willow Creek senior pastor Bill Hybels will reportedly comment on the withdrawal at tomorrow's session.
Five days ago, Gina Woods, Starbucks director of executive communications for Starbucks, apparently left a message on the Change.org petition page: "I work for Starbucks in Communications. I wanted to let you all know that Howard is not speaking at Willow Creek. The conference web site has just not been updated."
(Update: In response to CT questions about why Schultz withdrew, Woods told CT in an e-mail, "I can only confirm that Howard Schultz will not be speaking at the Willow Creek Leadership Conference. Unfortunately, the event website was not updated to reflect this change.")
728 people signed the petition. This year's Willow Creek Leadership Summit is expected to draw 165,000 attendees at 450 locations (185 of those are live satellite locations in the U.S. The others are international locations that will watch a videocast in the fall.)
The petition references Willow Creek Community Church's longstanding relationship with Exodus International, as well as the ending of that relationship in 2009, which Christianity Todayreported last month.
"Willow Creek has a whole host of ministries for people dealing with these issues, and we would never intend for them to feel sidelined," Susan DeLay, director of media relations at Willow Creek, told CT's reporter for that story. "All we've changed is how we've gone about inviting them into the church, which is the primary issue here."
Change.org petitions were recently credited with getting TOMS Shoes founder Blake Mycoskie (who spoke at last year's Willow Creek Leadership Summit) to cut ties with Focus on the Family, and with getting Apple to remove an iPhone app for the Manhattan Declaration and a business relationship with the Christian Values Network.
Update 8/11/11 9:45 a.m.: Andrew Marin, author of Love is an Orientation, said on Twitter that he was attending the summit "as [a] special guest of Willow Creek re: Starbucks CEO cancellation." Marin's eponymous foundation attempts to build bridges between evangelicals and the LBGT community.
Update 8/11/11 4:15 p.m.: We've posted Bill Hybels's remarks about Schultz's withdrawal.