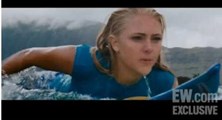 Jan. 28 update: And we now have the trailer embedded below.
Entertainment Weekly has the premiere of the new trailer for Soul Surfer, coming to theaters in April. It's the inspirational story of Bethany Hamilton, who lost her left arm to a shark attack at age 13 but has gone on to become one of the world's top surfers, thanks to her courage, perseverance, and Christian faith.
AnnaSophia Robb plays Hamilton, while Dennis Quaid and Helen Hunt play her parents. The faith angle is clear in the film, but it's not at all "preachy." It's a pretty good surfing movie, with beautiful people and places throughout, and based on one of the most inspirational stories I've ever heard. (Seriously? Losing an arm to a shark attack and not only having the courage to get right back in the water, but going on to become one of the best surfers in the world anyway? I find that, and Hamilton's story, astonishing and incredibly uplifting.)
CT visited the Soul Surfer set last year and interviewed Quaid and Robb; my interview with Bethany Hamilton will post shortly before the April 8 release of the film.