Apple removed Exodus International's app after critics released a position calling the organization "hateful and bigoted." Exodus promotes "freedom from homosexuality through the power of Jesus Christ."
President of Exodus International Alan Chambers* tweeted, "It's official, the @ExodusInl App is no longer in the @AppStore. Incredibly disappointing. Watch out, it could happen to you. #freedom"
Chambers told CT that about 16,000 people had downloaded the app and it had about 500 negative reviews. He said that Exodus has counted 105 ipad apps and 135 mobile apps that support gay rights and homosexuality.
"It's absolute assault on free expression and free ideas," Chambers told CT. "If you don't agree with the loudest person in America, you're going to be forced into conformity."
Apple spokesman Tom Neumayr told CNET that Apple pulled the app because "it violates our developer guidelines by being offensive to large groups of people."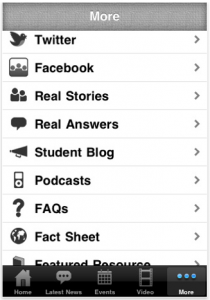 About 147,000 people have signed a petition addressed to Apple CEO Steve Jobs that stated: "Apple doesn't allow racist or anti-Semitic apps in its app store, yet it gives the green light to an app targeting vulnerable LGBT youth with the message that their sexual orientation is a 'sin that will make your heart sick' and a 'counterfeit'. This is a double standard that has the potential for devastating consequences."
Exodus announced the app's availability on March 8, and the petition has gained much media attention since Truth Wins Out spearheaded the "demand that the iTunes store stop supporting homophobia."
Chambers said that Exodus will consider other options, such as an Android app, but says he thinks there might be a double standard.
"If we got 150,000 signature to pull another app, it would be seen as intolerant and homophobic," Chambers said. "We wouldn't do that because we believe of freedom of speech and freedom of expression in the public sphere. As Christians, we bear the brunt of it because the other side sees it as an antiquated expression."
Truth Wins Out also spearheaded an effort to petition Oprah Winfrey to pull Lisa Ling's "Pray the Gay Away?" episode that features Exodus, though that petition has less than 1,000 signatures.
Other organizations and companies have been targeted because of issues related to sexuality. Equality Matters has targeted Chick-Fil-A for being connected to other ministries. "In fact, the company has strong, deep ties to anti-gay organizations like Focus on the Family and the Fellowship of Christian Athletes, and its charitable division has provided more than $1.1 million to organizations that deliver anti-LGBT messages and promote egregious practices like reparative therapy that seek to 'free' people of being gay."
Lady Gaga ended a deal with Target for exclusively selling a version of her new album, saying the corporation supported anti-gay rights groups.
Apple made a similar decision last year when it removed an app from the Manhattan Declaration. After a petition with about 7,000 signatures, Change.org, Apple removed it from the app store.
In October, Exodus dropped the "Day of Truth," intended as a response to Gay, Lesbian, Straight Education Network's (GLSEN) "Day of Silence." Earlier in 2010, Dawson McAllister Association dropped Exodus as partner under pressure from Clear Channel.
People who criticize gay sexual relations for religious or moral reasons are increasingly being attacked, a Vatican diplomat told the United Nations Human Rights Council.
CT recently reported on how evangelical therapists have moved from focusing on changing orientation to embracing faith identity for gays. Previous stories on the ex-gay movement included Tim Stafford's look at Exodus.
*This post has been updated. Correction: The president of Exodus International is Alan Chambers.