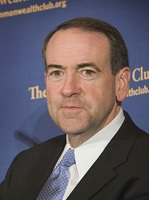 Jesus Daily, a Facebook fan page devoted to Jesus with more than 5 million followers, plugged a new website for Mike Huckabee, encouraging his fans to pray for him as he decides whether to run for president.
"MY FAITH IS MY LIFE. IT DEFINES ME." –Mike Huckabee

LIKE/SHARE if you feel the same and visit http://www.prayforhuckabee.com/

*Jesus Daily invites all leaders to share their Christian values with us.
The former governor of Arkansas will announce tomorrow whether he will run for president, the New York Times is reporting.
"Governor Huckabee will announce tomorrow night on his program whether or not he intends to explore a presidential bid," Woody Fraser, the executive producer of "Huckabee" said in a statement. "He has not told anyone at FOX News Channel his decision."
Ed Rollins, who has served as Huckabee's top political adviser, expressed doubts that Huckabee would run.
Mr. Rollins said that "there is a campaign that can be put together in a week. All of the pieces are there." But he said that in the last two weeks Mr. Huckabee's family expressed doubts about a run.

"They did not want him to run. I think that had a big impact," Mr. Rollins said.

In addition, Mr. Rollins said that he did not think Fox News would allow Mr. Huckabee to use the platform of a news show on their network to make an announcement that he is running for president.
Family matters have played a large role leading up to some of the decision making as candidates decide to enter the 2012 race. Former House Speaker Newt Gingrich and Texas Representative Ron Paul both threw their hats into the ring this week.
On the front page of the New York Times this week, reports suggested Gingrich's wife will play a central role in his campaign (and has played a role in his Catholic conversion) and that Mitch Daniels' wife plays a key role in deciding whether the governor of Indiana might run. Daniels and his wife divorced and she left her four daughters with him and married a doctor. She divorced again and she and Daniels remarried in 1997. His family is widely seen as a key factor in his decision to run.