Forty years ago, on June 21, 1971, TIME magazine featured a psychedelic Jesus on its cover, with a story on the Jesus Revolution's impact on popular culture.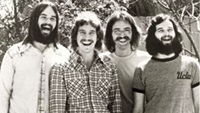 This summer, the Cornerstone Festival will celebrate the anniversary with a Jesus Rally, featuring some of the great Christian rockers of the 70s and 80s, including Daniel Amos (pictured here), Randy Stonehill, Servant, Barry McGuire, Phil Keaggy, Classic Petra, Rez Band, and more.
Festival organizers have also planned a number of seminars and discussions for conversation about the Jesus Revolution's impact on church history, and how it's still affecting culture today.
Owen Brock of Servant, which played its final concert 20 years ago, says he was excited for a band reunion when Cornerstone brought up the idea.
"We were both interested and challenged by what it might take to pull this off well," he said. "We are currently immersing ourselves in the music again and we are very excited about performing at Cornerstone 2011."
McGuire, best known for his classic song "Eve of Destruction," has never played Cornerstone before, but says "I'm truly looking forward to being there, with so many artists who have made such an impact."
Since its 1984 origins, Cornerstone has pushed boundaries and challenged the concept of what a Christian Festival "should" look like. It's an annual pilgrimage for people of faith of all ages, styles, and denominations, some 20,000 in all each year.
This year's event will take place June 30-July 3 at Cornerstone Farm outside of Bushnell, Illinois. Tickets are available through www.iTickets.com.