TBN Embroiled in 'Sordid' Family Lawsuit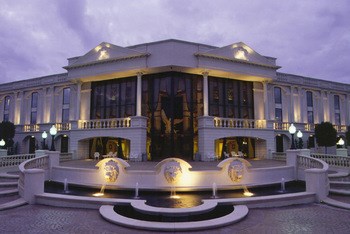 This slideshow is only available for subscribers.
Please log in or subscribe to view the slideshow.
TBN Embroiled in 'Sordid' Family Lawsuit
The granddaughter of Trinity Broadcasting Network founders Paul and Jan Crouch has accused some of the network's directors of illegally distributing "charitable assets" worth more than $50 million for their personal use.
Brittany B. Koper, the daughter of Paul Crouch Jr., was TBN's chief financial officer until last September. She says she was wrongfully fired after she refused to cover up the alleged distribution scheme.
The allegations are not against TBN itself, but against Koper's former attorneys from Davert & Loe, who have also done legal work for TBN. She has accused them of breach of fiduciary duty, professional negligence, and other transgressions.
"Her assertions are outright fiction and wholly without merit," Douglass S. Davert, one of the attorneys named in the suit, told The Orange County Register. "The allegations are defamatory and to the extent they get printed we are going to defend ourselves vigorously."
Colby May, spokesperson for TBN, told Pat Robertson's CBN News that the assertions are "a bold faced lie." The fact is that Ms. Koper has confessed several different times to embezzling money, he said. "She and her husband, basically, in the dark of night up and moved to New York [after leaving TBN].
The Orange County Registerreported that Davert & Loe had filed a similar lawsuit against Koper and her husband last October. They accused the Kopers of forging documents and misappropriating nearly $400,000 in funds, but the suit was dismissed without settlement in January. Tymothy MacLeod, Koper's attorney, said the suit was a preemptive attempt to discredit Koper.
"It's kind of a sordid affair," he told the paper. "Many ...
02/17/2012