Heading into South Carolina's primary tomorrow, social conservatives are looking to the hills for help–literally. While the entire state is considered conservative, the mountainous and piedmont regions in the northwest are strongholds for religious and social conservatives. If another candidate will beat out frontrunner Mitt Romney, he will likely need to first unite the hill country where evangelicals form the base of the GOP. But even if this region unites around a candidate, there may not be enough votes to defeat Romney.
In recent polls, Rick Santorum and Newt Gingrich were even with around 20 percent of the vote. Another poll shows Gingrich is tied with Romney. Campaigns are spending millions of dollars in ads and both Santorum and Gingrich need a strong showing, if not a win, to continue their bids for the Republican presidential nomination. To win, one of the candidates will need to secure the northern, mountainous region known for its social conservatism.
The northwest counties bordering North Carolina are what Patchwork Nation labels "evangelical epicenters"–counties where there is a much higher proportion of evangelicals than in other parts of the country. They are consistently Republican strongholds who back candidates with conservative views on social issues.
Furman University political science professor James Guth said that while there are regional differences but that polls are showing smaller differences this election cycle.
"With economic expansion in the Upstate and in-migration, the region no long is quite as distinctive from the Midlands and Low Country as it once was," Guth told CT. "You have a lot more cosmopolitan business and technical types who will vote Republican, even if they don't get involved in party politics."
2008 is turning out to be a close predictor of 2012. In both Iowa and New Hampshire, Romney has done well in cities and affluent suburbs where he succeeded four years ago. Social conservatives, like Santorum, have done best in the rural counties and small towns that backed Mike Huckabee.
So far, Romney has not done well in small-town America. In Iowa and New Hampshire, Romney did poorly in the rural counties but better in the cities and suburbs whose numbers gave him the win.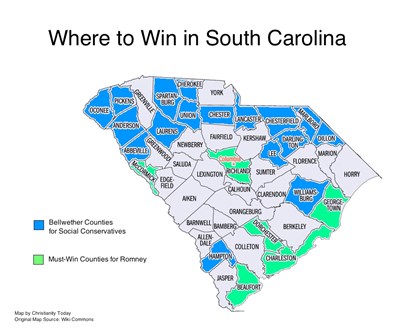 Romney's performance in cities and suburbs is likely to continue in South Carolina. Romney will likely do best in the more populous areas in the southern half of the state from state capital down to the coast. The suburbs of Columbia, Charleston, and Augusta (Georgia) are must-win areas for Romney. While still socially conservative, Republicans in this region have a history of being concerned about economics, national defense, and electability–all of which plays well for Romney.
Laura Olson, a professor of political science at Clemson University, said that Romney has the advantage of being able to focus on his strongholds while Gingrich and Santorum split the more conservative votes. Santorum may–or may not–receive more of these votes after receiving the support of some evangelical leaders over the past week.

"Evangelicals–even here in South Carolina–are diverse and more than able to think for themselves; so, we shouldn't expect them all to flock to Santorum just because a group of pastors endorsed him," Olson told CT. "There are enough votes that will go to Romney, Perry, and Gingrich that Santorum shouldn't be banking on getting a large majority of evangelical votes."
The wild card in the race is Ron Paul. The libertarian is polling worse in South Carolina than he did in either Iowa or New Hampshire. He is expected to receive only about 10 to 15 percent of the vote. But unlike the other candidates, it is much harder to predict from where he will draw his support. If he does well in the military communities or suburbs, it could draw votes away from Romney. But Paul has also done relatively well among evangelicals, which could hurt Santorum or Gingrich.