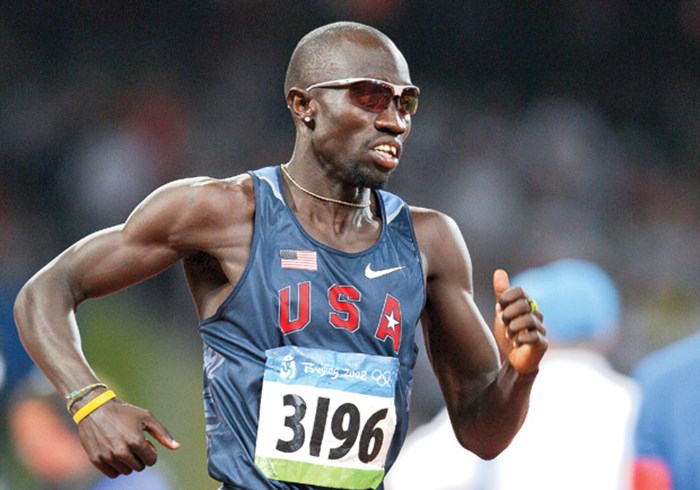 Image: Courtesy of Lopez Lomong
Lopez Lomong knows what it's like to run for his life. But these days, the U.S. 2012 Olympics track athlete competing in the 5,000-meter race on [August 8-2012] is running not from terror but for joy in the Lord.
The 27-year-old Lost Boy of Sudan captured the world's attention at the 2008 Beijing Olympics, where he led the U.S. team in the opening ceremony as the flag bearer and met President George W. Bush. Preparing for this year's London Olympics, which commences July 27, Lomong says he fully realizes his record-breaking accomplishments serve as a platform to share his story.
That story starts in 1991, when Lomong's home village of Kimotong was attacked by rebels in the second Sudanese civil war. "I was 6 years old when I was abducted at church, which met under a tree," Lomong told Christianity Today at his training base in Portland, Oregon. "They ripped my mother's arm from me, throwing me and other boys into a truck; they blindfolded us, then drove us to a prison camp that trained rebel soldiers."
With 80 other boys, Lomong was crammed into a hut, where he survived on sorghum mixed with sand; the boys were beaten with a cane by militia when they needed to use the bathroom, which sent the message that they dare not escape.
Until Lomong did three weeks later, with the help of "three angels," a story he recounts in his new autobiography, Running for My Life (Thomas Nelson). "They were three older boys, 14 or 15, who knew my family from our village, and they said to me, 'You're going to see your mother.'" 
On a moonless night the four youth slipped out of the room, crawled on their bellies, and slid through a hole in a fence. 
"The savannas are very tough. We ran for three days—my legs and feet were bleeding," said Lomong. "When I wanted to stop, my angels carried me."
Lomong didn't end up in his home village to see his mother, but instead the four boys hobbled into the United Nations–sponsored Kakuma refugee camp near Nairobi, Kenya, where Lomong remained for 10 years. His three friends vanished after two weeks.
"I have been back and keep asking for them. They brought me from harsh wilderness to the Promised Land, then disappeared like angels," Lomong told CT. "They are my inspiration for what I am doing now. God was with them to help me."
At Kakuma, food was sparse and refugees rummaged through garbage for scraps. To play soccer, boys had to run one lap around the camp—18 miles—in order to limit the numbers on the field.
If running saved Lomong's life from one circumstance, writing saved him from another. When he was 16, the priest at his church announced that 3,500 boys out of the thousands from Kakuma had the chance to relocate to the United States by writing an essay about their lives. Lomong prayed that God would make his essay stand out, penning it as a prayer.
He started his essay about church, where he was first abducted, and ended with church, where he learned of the opportunity for freedom.
His story was selected. Lomong was moving to America.   
About the same time, Robert and Barb Rogers of Syracuse, New York, read a notice in their Catholic church's bulletin regarding an upcoming meeting about finding foster homes for the Lost Boys of Sudan.  
"I was looking for ways to tithe my time, and I felt God called me to do something about this need shared by the Catholic Relief Services," said Robert Rogers. "But my wife said I was out of my mind. I added that I was also out of town and that she had to attend the meeting."
Barb went, and signed them up.  
On July 31, 2001, the empty nesters met Lomong at the Syracuse Hancock International Airport.
"I don't forget that date. My new family held a sign that read, 'Welcome Home Joseph,' the name given me when I was baptized," said Lomong. "They said to call them 'Mom and Dad.'
"They took me home. I had been living in a camp for 10 years. It was my first time in a car," Lomong recalls. "At their house, it was the first time in my own bed. I kept thinking, This is not where I belong. There's been a mistake."
He enrolled in Tully High School, where he ran for the cross-country team, coached by family friend Jim Paccia.
 Lomong had discovered that running was more than just a way of transportation --- and dodging bullets—while in Kenya in 2000, where he and his friends watched on a small TV Michael Johnson run and win, then cry for joy, at the Sydney Olympics. Lomong said that was the spark that lit his dream to run for the United States.  
Under Coach Paccia, Lomong earned three high-school state championships, then ran for Northern Arizona University, winning an NCAA championship in 2007, the year he became a U.S. citizen. He took time off from college to focus on training for the Olympics, placing 17th in Beijing in 2008.
With Nike and Visa as sponsors, Lomong now trains with Oregon Track Club/Portland.
And, feeling compelled to use his talents and his story to give back, he founded the 4 South Sudan team, a partnership between the Lopez Lomong Foundation and World Vision, to help provide clean water, health care,  education, and nutrition to the South Sudanese.
 "My own sister was raped while going to get water," said Lomong. "And if the girls don't have to fetch water they can focus on school. It all ties together."
Steve Haas, chief catalyst with World vision, is grateful for the partnership.
"Lopez is an icon in the world of track and field and opens up an opportunity to talk about a nation that many have given up on and that we are very serious about," Haas said.
Lomong's story has energized other athletes.
At a recent Portland gathering, Lomong's Oregon Track Club/Portland and Olympic teammate Matt Tegenkamp said, "Lomong looks at this platform as a way to help those who cannot help themselves. He sees it as a responsibility."
Other athletes have joined the 4 South Sudan team, including United States National team marathon runner Josh Cox.
"There are a lot of Christian athletes out there, but how are they serving? They might say when they get enough money they will help, or they find other reasons to wait. But Lopez is not waiting," said Cox.
And, he is also one who never loses sight of his roots.  
"A lot of people who come from hard circumstances forget, but Lopez, he never forgets. He gets it, and I think it is a real testament to his character," said Cox.
Lomong returned to his village for the first time in 2007 to meet his parents, whom he learned were alive back in 2003. His parents had thought he was dead as well, having held a memorial service for him years before.
An HBO crew documented the reunion for its TV show Real Sports. Lomong met his two younger brothers, Alex and Peter, whom in 2009 he helped bring to the United States, where they currently live with host families in Virginia, attend school and, yes, run.
"When I run now, I keep thinking about the children who I had to leave behind, those who did not have the opportunity I had," Lomong said. 
And, though South Sudan is always on his mind, he is thankful to God for bringing him to the United States.  
"The American people give me so much, and I have to go back and give that blessing to Africa."  
He and a World Vision team, which includes Cox, will travel to South Sudan after this summer's Olympics.
"We have people drilling wells for clean water right now in Sudan, and we are taking media with us. I want to show where the foundation money is going and how many people are benefiting," Lomong said. 
And, with the 2012 Olympics here, a new set of eyes will be riveted by Lomong's running for his life story.
"Even people with no spiritual connection, when they see the road that Lopez has traveled, also recognize that this can only be done with the hand of God," said Haas.
Lomong agrees.
"Running is the talent that God has given to me," said Lomong. "In the Bible when you are given a talent, you can put it in your pocket and not use it, or you can use it. I am trying to use mine."
Freelance journalist Cornelia Becker Seigneur is the author most recently of WriterMom Tales and the faculty adviser for the student magazine at Multnomah University. Reach her at CorneliaSeigneur.com.