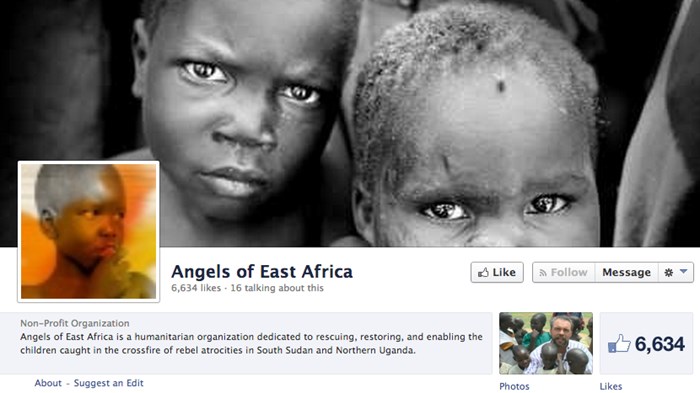 Image: Facebook screenshot - Angels of East Africa
Update (Feb. 11, 2014): Sam Childers, the first American recipient of a Mother Teresa social justice award for his East Africa exploits as the "Machine Gun Preacher," is now under a federal investigation. Agents from the FBI and IRS raided his home, business, and donation warehouse last week in Pennsylvania.
"They went into a container that was packed and ready to come to the orphanage and totally destroyed it," Childers, who is currently working in South Sudan, told WJAC-6, a local news outlet. "I mean, destroyed it, and what's so sad is that it was all children's clothes."
Childers claims the raid was related not to his own activities in East Africa (which have prompted controversy) but to a relative's recent embezzlement from Childers's charity, Angels of East Africa (see below). "We've got nothing to hide," he told WJAC-6, which reports more details.
----
[Originally published on April 1, 2013, as "Relative Steals Money from Machine-Gun Preacher's African Charity | Relative says he took more than $60,000 because Sam Childers 'didn't pay us enough.'"]
Apparently, having a reputation as a head hunter won't keep people from stealing thousands of dollars from your nonprofit organization.
At least, that's the case for Sam Childers, the drug-addict-turned-Pennsylvania-pastor who is widely known as the controversial "machine gun preacher." Police allege that one of Childers' relatives, 26-year-old Justin Michael Wirick, stole nearly $61,000 from Angels of East Africa, the nonprofit organization founded by Childers.
Wirick allegedly stole the money over the course of two years, and only was discovered after a forensic audit revealed the missing funds. He "will answer theft charges in Somerset County [Pennsylvania] court."
The Tribune Democrat reports that "Wirick admitted taking the funds and said his action was because '[Childers] didn't pay us enough.'"
Childers' story was the topic of a 2011 film, Machine Gun Preacher, which starred Gerard Butler (and prompted one CT critic to weigh in on rougher, tougher, masculine Christian men in the movies). However, the movie was a box-office bomb: Though it reportedly cost $30 million to make, it earned only $420,000 in theaters, CT reported.
Just before the film's release, CT reported that Childers had been accused of neglecting children at his orphanage in South Sudan.