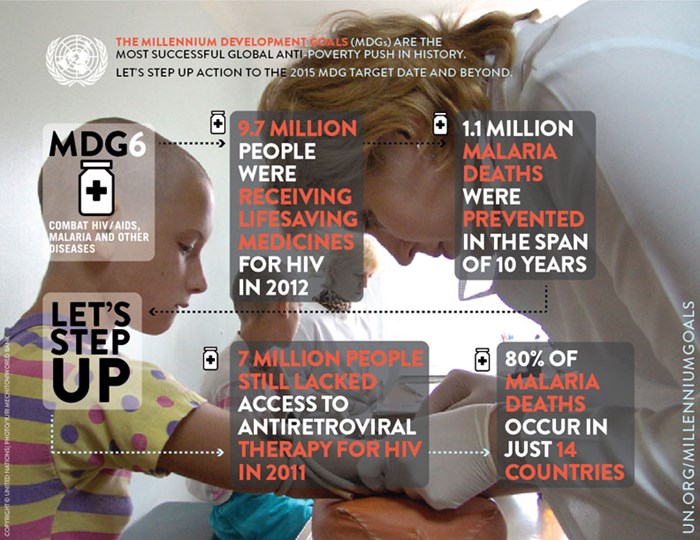 Image: UNAIDS
Christians worldwide took part in World AIDS Day outreach today (December 1) in a rare overlap with the first Sunday in Advent, when many churches start preparations for Christmas.
World AIDS Day, the annual focus on HIV/AIDS, has become an almost week-long effort to bring fresh public attention to fighting the virus that infects 6,300 people daily, according to the UN HIV/AIDS 2013 Factsheet. Globally, about 34 million people are HIV-positive.
One theme this year is Getting to Zero, which would mean zero new HIV infections. But the short-term 2015 goal, endorsed by the United Nations, is to achieve a trend reversal—a first-ever decline in the number of overall new infections.
The HIV/AIDS Initiative at Saddleback Church in southern California supports the Getting to Zero campaign with extensive online resources. In addition to World AIDS Day events, more Christians and their churches are doing front-line ministry than many people might realize.
For example:
Pastor George Karambuka in Nairobi, Kenya, is using his Facebook page to advocate for adult men to be circumcised, a research-verified means to reduce the spread of the virus. CT wrote about his outreach in 2012.
Tina Banda and Presbyterians in Malawi run a "Mother Buddies" program, called Mziche, in which an HIV-positive mother who has given birth to a health child is paired with a pregnant woman for counseling. The goal is to use new drug treatments to prevent mother-to-child transmission. The program involves hundreds of congregations across denominational lines.
Phungreiso Varu, a Christian scholar in northeast India, has successfully advocated for churches in Nagaland to fight HIV/AIDS among the region's drug addicts. Injected drug abuse remains one area where HIV continues to have a stronghold in parts of Asia and Russia because of stigma associated with use of heroin and other injected drugs.
A generation ago in the 1980s, key Christian leaders were outspoken in their view that the AIDS pandemic was God's judgment. The late Jerry Falwell held to this view. But over time, Christians and their pastors changed. Their viewpoint about homosexual behavior and the AIDS crisis shifted from judgmentalism to empathy. In 1999, Falwell convened a forum of gay leaders and traditional Christians. "I don't agree with your lifestyle; I will never agree with your lifestyle, but I love you," he said at the time. "Anything that leaves the impression that we hate the sinner—we want to change that."
HIV/AIDS is now a disease primarily of heterosexuals. AIDS is no longer an automatic death sentence. About 1.7 million died of AIDS in 2012. But more people have access to life-sustaining, anti-retroviral drugs than ever before. One of the Millennial Development Goals is universal access to new drugs. Such access means that more people are living with HIV for decades, not years. Their needs, hopes, and dreams are much different than years ago.
Increasing, global leaders are realizing that Christians and their churches are doing more to defeat the ongoing HIV/AIDS pandemic than any other single organization or group. In late October, UN leaders made an explicit appeal to church leaders for deeper involvement in fighting HIV/AIDS:
Michel Sidibé, executive director of UNAIDS, the United Nations organization that focuses on HIV and AIDS, urged churches to remove sexuality and stigma to exclude people. He made a plea for cooperation between Christian bodies and international organizations fighting HIV and AIDS in a speech at the 10th Assembly of the World Council of Churches in Busan, South Korea…. "Over the years you have generated an essential dialogue in faith communities about HIV, sexuality, stigma, discrimination and rights. "Now it is time to push boundaries on issues of sexuality, stigma and rights. You must be barricades against exclusion," said Sidibé. He said that progress in the global AIDS response in recent years is impressive with new HIV infections declining faster across the globe.
Here are additional resources: