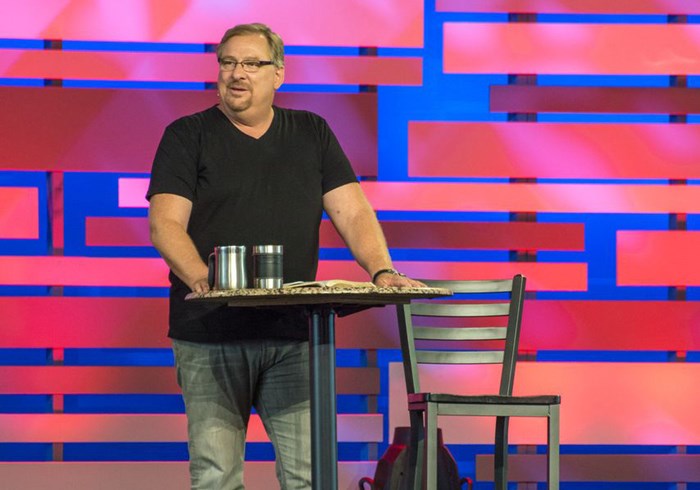 Following the April suicide of their son, Rick and Kay Warren have a new purpose for their 20,000-member megachurch: removing the stigma of mental illness from churches.
Rick Warren, joined by his wife on stage, preached at Saddleback Church on Sunday for the first time since Easter, five days before Matthew Warren's death. The sermon, the first in a six-part series on grief entitled "How To Get Through What You're Going Through," related the Warrens' journey to rely on hope in God in their subsequent grief.
"God knows what it's like to lose a son," Rick Warren noted.
He ended by promising his Saddleback congregation that their next major ministry focus would address mental illness within churches. Though Saddleback already sponsors a support group for family and friends of people with mental illnesses, Warren envisions a program similar to Saddleback's campaign against the stigma of those with HIV/AIDS.
"It's amazing to me that any other organ in your body can break down and there's no shame and stigma to it," Warren told the congregation. "But if your brain breaks down, you're supposed to keep it a secret…. If your brain doesn't work right, why should you be ashamed of that?"
The Warrens noted in April their plans to use proceeds from the sale of their son's house to fund a mental health ministry. Rick Warren noted in a recent Orange County Register interview that the initiative would take inspiration from Saddleback's existing HIV/AIDS initiative: "Ten years ago, God called Kay, and then me, to help remove the stigma attached to HIV & AIDS," he said. "Now, it looks like we're being called to help remove the stigma for a much bigger disease. 34 million people have HIV & AIDS but 400 million battle mental illness worldwide."
In his four-month absence, Saddleback hosted a wide variety of substitutes preaching for Warren, including Greg Laurie, Francis Chan, Wilfredo de Jesus, Russell Moore, Jud Wilhite, Perry Noble, Judah Smith, Mark Driscoll, Doug Fields, Pete Wilson, Matthew Barnett, Steven Furtick, Craig Groeschel, and Alan and Phil Robertson (of A&E's Duck Dynasty).
Saddleback will broadcast the July 27 service online every two hours for a week following Warren's return to the pulpit.
In the months since Matthew's death, Rick Warren has used the media attention surrounding his family to voice support for church initiatives such as a resolution passed by the Southern Baptist Convention addressing mental illness. Leaders have voiced support for the Warrens, with some, such as former Southern Baptist president Frank Page, sharing their own stories with mental illness and suicide.