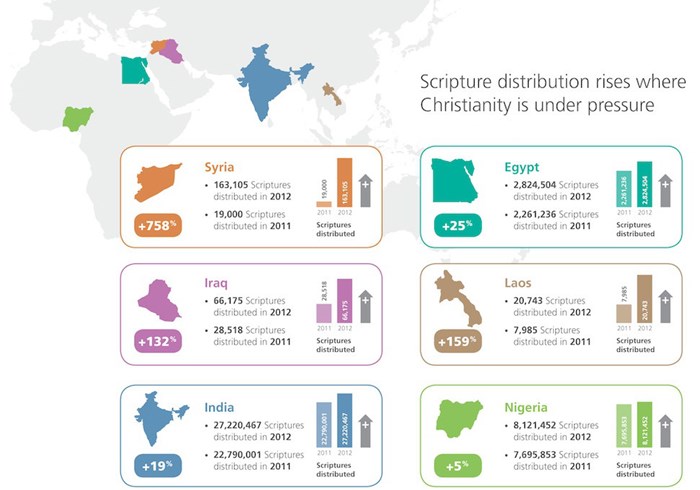 Image: Courtesy of United Bible Societies
Demand for Bibles and other forms of Scripture has surged in areas of the world where Christians most frequently face religious freedom violations.
The United Bible Societies (UBS), which represents 146 Bible societies in more than 200 countries and territories, reports:
"Global Scripture distribution by Bible Societies rose by 6%, from just over 381 million in 2011 to more than 405 million in 2012. Of that 405 million, 32.1 million were full Bibles, matching 2011's record-breaking year of Bible distribution."
Of greatest interest, UBS notes how six of its top countries for distribution gains also top the World Watch List (WWL), which ranks countries where Christians face persecution.
For example, the country with the highest increase of Bible distribution from 2011 to 2012 is Syria, which recently leapt from No. 36 to No. 11 on the WWL. While the nation's Bible society distributed 19,000 Scriptures in 2011, it distributed 163,105 in 2012—a 758 percent increase. (Many ...
1