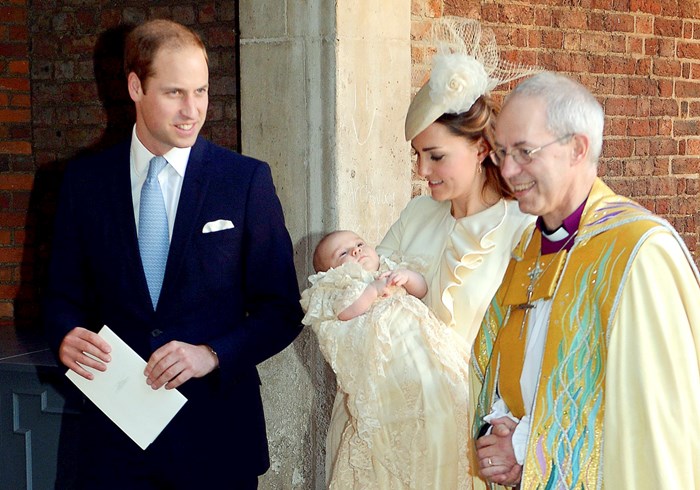 Image: John Stillwell / AP
Last Wednesday, October 23, 3-month-old Prince George was baptized at the Chapel Royal at St. James's Palace in London. Archbishop of Canterbury Justin Welby performed the ceremony as invited guests—including the baby's great-grandparents, 87-year-old Queen Elizabeth II and 92-year-old Prince Philip—looked on.
Welby saw the occasion as a teachable moment and posted a video on his personal website. Welby hopes Prince George's baptism will inspire more people to be baptized. Baptism is not just for royal babies, said Welby. "God's love is offered without qualification, without price, without cost, to all people, in all circumstances, always," he said.
More than 2,000 baptisms take place each week in the Church of England. Two-thirds are for babies under age 1, but a growing number of toddlers and older children are also baptized. However, in the last 60 years, baptisms in the Church of England have been declining.
The Church of England isn't alone in seeing decline. The Southern Baptism Convention recently reported that baptisms have declined six out of the last eight years, and 2012 saw its second-worst total in 60 years.
Baby George was baptized with water from the Jordan River, where it is believed that Jesus was baptized. Though water supposedly taken from the Jordan River can easily be purchased online at eBay and Amazon, people can't just go buy some and ask an Anglican priest to use it in a baptism ceremony. "It must be a royal thing," said Neva Rae Fox, a spokeswoman for The Episcopal Church and a member of the Worldwide Anglican Communion. Church of England baptisms usually involve regular water blessed by a priest.
Meanwhile, every year Christians around the world are baptized in the Jordan River, even though it has been severely polluted with high levels of raw sewage. It's ironic that one of the world's most famous rivers has been so severely mismanaged. Yet Gidon Bromberg, co-director of Friends of the Earth Middle East, is optimistic that it can be rehabilitated. And Qasr el Yahud, the site identified as the traditional location of Jesus' baptism, is now open daily.
Paul Pastor, associate editor for Leadership Journal, visited the Yardenit site on the Jordan River in May with Israel Ministry of Tourism. "I saw a lot of baptisms, and most all of them were rebaptisms," he said. "I saw probably 100 people in the water and 200 people waiting." A Time photo essay pictures a similar scene, with hundreds of people waiting to enter the sacred water. And new converts aren't the only ones being baptized. Seasoned Christians of all walks of life, even ministers, are rebaptized in the Jordan, because they want to be baptized in the same water as Jesus. But other pilgrims visit the river only to observe and pray. Such was the nature of Nigerian President Goodluck Jonathan's recent visit. There he prayed before dipping his hands seven times into the water.
While the water of the Jordan River is not important to baptism itself, it makes for a uniquely spiritual experience, said Robert Ekh, senior pastor of Livets Ord (Word of Life) in Uppsala, Sweden.
The mode and meaning of baptism varies across Christian traditions. Some believe that only professing Christians should be baptized; others extend the rite to infants. Some baptize by immersion; others pour or sprinkle water on the person being baptized. And some believe it is an instrument of salvation, whereas others believe it is merely a sign of salvation—it has no objective effect upon the recipient.
But virtually all Christians agree that baptism is the symbolic door into the community of the church, that it conveys how Christ raised us from death to new life, and that we are cleansed from sin.