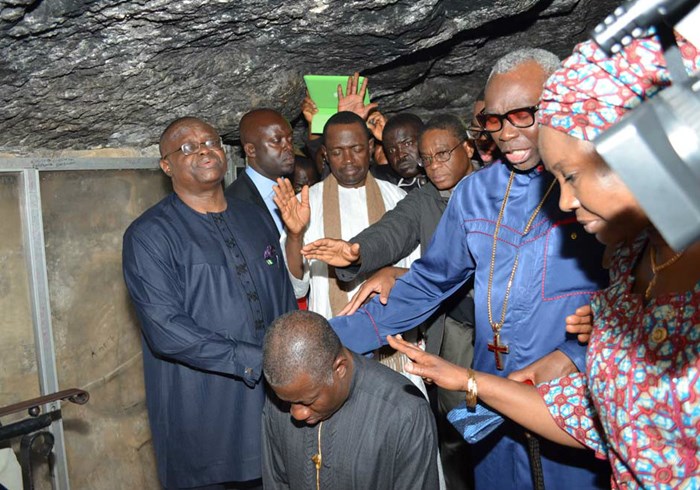 Image: Courtesy of Nigeria's State House
The Mount of Olives. The Garden of Gethsemane. The Sea of Galilee. The Jordan River. The Church of the Annunciation. The Church of Dominus Flevit (where Jesus wept).
President Goodluck Jonathan spent the weekend leading eight of Nigeria's governors on a busy tour of these Holy Land pilgrimage sites and many more. While initial reports that the president would lead 19 governors and 30,000 pilgrims were overblown, Jonathan's journey is "the first time a sitting Nigerian president will embark on pilgrimage to Israel," according to the News Agency of Nigeria.
Jonathan made the trip to pray for peace between Nigeria's Christians and Muslims, as well as to sign agreements with Israeli leaders regarding international flights and other matters. At a prayer service in Jerusalem for thousands of Nigerian pilgrims, he said (according to The Sun):
"This is the first time the pilgrimage is taking this shape. I believe we will continue in this spirit. Let me reassure you, even though we are passing through challenging periods, God has made it possible for us to be here. Even in the scripture, we've seen the many battles the Jews are fighting. But because of their zeal and commitments, God has kept them.

We've learnt from the history of Israel. Every nation passes through challenges. ... We will overcome. This is the turning point in our midst. Nigeria will never remain the same again after this."
In a gesture of interreligious reconciliation, a few Muslim lawmakers sponsored Christian pilgrims. Approximately 30 percent of this year's pilgrims are self-sponsored.
Accompanying Jonathan were the governors of Plateau state, central to much of Nigeria's Muslim-Christian strife, and of Delta state, where oil militants recently threatened to target Boko Haram for its attacks on Christians.
CT recently noted how Nigeria is reviewing state-sponsored pilgrimages to see if they really improve character, as well as how Nigeria's Easter pilgrims this year were last year's leftovers and how 300 Nigerian were stranded during Christmas pilgrimages to Bethlehem.
CT has regularly reported on pilgrimage and travel, including a 2009 cover package on the surprising rewards of Christian travel and why CT managing editor Katelyn Beaty, after visiting Israel, no longer believes in a spiritual Jesus.