Resignation of America's Ambassador for Religious Freedom Offers 'Dramatic Opportunity'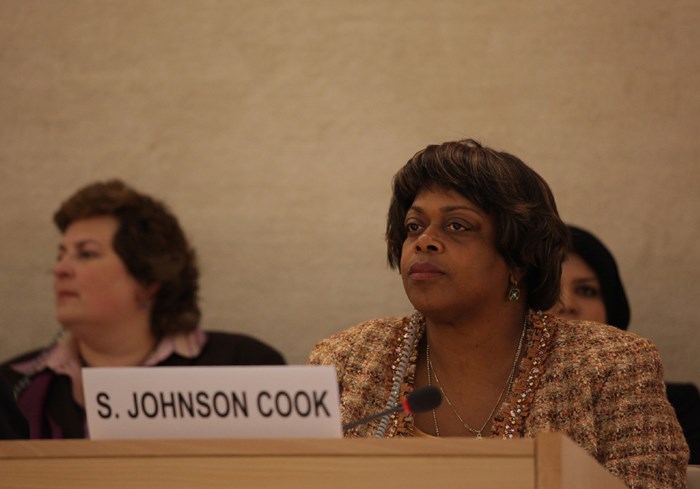 Image: U.S. Mission Geneva/Wikimedia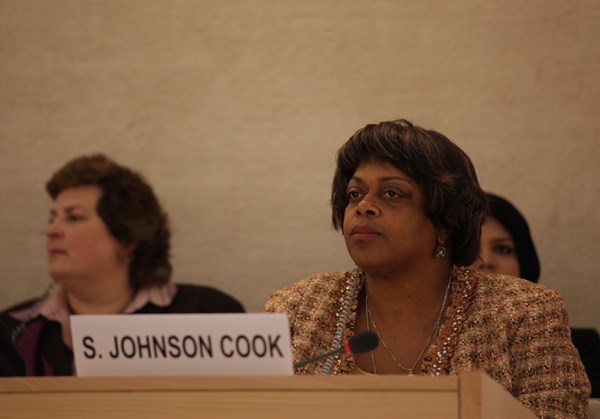 Resignation of America's Ambassador for Religious Freedom ...
Update (Oct 30): In her first interview since resigning, Suzan Johnson Cook explains to Religion News Service why she left her post (hint: money and kids), defends herself against critics, and touches on her future plans.
-----
Talk about ironic timing.
America's "Iron Lady" of religious freedom and her staff are the U.S. State Department magazine's "Office of the Month". But this week, Suzan Johnson Cook resigned as ambassador-at-large for international religious freedom less than two years into the job.
Religion News Service broke the news on Wednesday, noting that Johnson Cook was the first woman and first African American to hold the position created 15 years ago by the International Religious Freedom Act (IRFA).
The resignation has not been officially announced—and Johnson Cook's Twitter and Facebook feeds have been on hold thanks to the partial government shutdown. But on Wednesday, Joseph Grieboski, founder of the Institute on Religion and Public Policy, tweeted a photo with Johnson Cook "on her last day at @StateDept." And Faith and Action's Rob Schenck has posted on Instagram his own photo "celebrating [her] legacy" as "not only a force of nature, but a force of nature's God."
Alongside the well wishes was private discussion that the resignation was actually a firing. "I have heard the speculation that Ambassador Johnson Cook was forced out of her job, but I have no knowledge of its veracity," Thomas Farr, a longtime diplomat who served as the first director of the State Department's religious freedom office from 1999 to 2003, told CT. "Whatever the reason for her departure, the vacancy provides a dramatic opportunity for the Obama administration to adopt an aggressive, effective strategy of advancing religious freedom abroad.
"If the position remains vacant, or if it is filled with someone not qualified to move this issue into the mainstream of diplomacy, that will confirm the views of the critics—including me—that the administration does not see IRF policy as a priority," said Farr, who currently directs the Religious Freedom Project at Georgetown University's Berkley Center for Religion, Peace, and World Affairs.
Johnson Cook drew criticism for her lack of relevant experience. "[Her] only discernible qualification for the job was founding an organization for female faith leaders from around the world. What she had was the right political connections," notes Mark Silk on his Spiritual Politics blog. Silk hopes her successor will be "someone with actual ambassadorial experience."
"The Obama Administration will [now] get a second chance to highlight its commitment to religious freedom by this time appointing an ambassador with substantive foreign policy credentials and a real ability to leverage American diplomatic tools to advance a robust vision of religious freedom around the world," said a knowledgeable source who requested anonymity due to their proximity. "The religious freedom activist and the academic community are greeting her resignation with a sense of hope that the present opportunity will not be wasted."
"I want to stress the importance of President Obama moving swiftly to nominate a successor and not just leaving this important position open," Robert George, the new chair of the U.S. Commission on International Religious Freedom, told CT. "We hope [President Obama] will nominate someone who shares her deep dedication to religious freedom and who will work closely with us at the commission on behalf of so many people in lands today across the globe who are persecuted for their beliefs and religious practices."
Foreign Policy assesses IRFA's impact and offers advice on how to pick a successor. "While Johnson Cook brought energy and devotion to the job, she faced several hindrances," writes Will Inboden, "including the office's tertiary location in the State Department's bureaucracy, the Obama administration's relative indifference to religious freedom, and her own lack of foreign-policy experience."
"I'm very proud of the work of the IRF office, and I truly appreciate the daily passion and commitment of my wonderful staff," Johnson Cook toldState Magazine for this month's profile. "Because of our efforts, we've truly been able to elevate religious freedom as an issue critical to the Department's security and foreign policy objectives."
Detractors such as World magazine said Johnson Cook had an "uneventful tenure" that "failed to make an impression." She recently noted her own view of her achievements in a PBS interview:
"We were successful last year in helping Pastor Nadarkhani, one of the Christian pastors who was in Iran, with multilateral input, be able to be freed. There is now another pastor there, Pastor Saeed Abedini, who is in prison. And, again, we're using our partners and our multilateral as well as our bilateral partners to do that.

...

Sometimes, we see measurable success and we can uplift that, and, sometimes, we can't measure it. So, we have to continue with our efforts for promoting religious freedom around the world."
CT reported the long gap between when President Barack Obama first nominated Johnson Cook (and made a second attempt) and the U.S. Senate finally confirmed her as ambassador. RNS interviewed her shortly after she settled in to her new diplomatic role.
Farr previously explained to CT why America needs a religious freedom ambassador. Today, he told CT how the Obama administration can "move this policy to the front burner" by taking the following steps:
1. Quickly nominating an ambassador with diplomatic experience and a commitment to a capacious understanding of religious freedom (not just freedom of belief or of worship). There are several candidates whose views are consistent with those of the administration and who meet these two criteria.
2. Work assiduously to get the nomination moved through the Senate (this was not done with Ambassador Johnson-Cook). The Senate has to date largely ignored this issue. In the fifteen years since the passage of IRFA it has not held a single oversight hearing to ask whether and how the law is being implemented. It now has the opportunity to step up to the plate and demonstrate its commitment to US IRF policy.
3. Give the new ambassador the status and resources he or she needs to succeed in the State Department. This means, at a minimum, that the ambassador should report directly to the Secretary of State and attend all regular meetings of senior Department officials. It also means allocating funds (e.g., from the Human Rights and Democracy Fund, and counter-terrorism funds) directly to the ambassador for use in advancing religious freedom. Ambassador Johnson-Cook had neither status nor resources.
4. Letting the US diplomatic corps and the world know that President Obama and Secretary Kerry are giving this ambassador their personal backing to move this issue to the front burner of American diplomacy.

10/18/2013