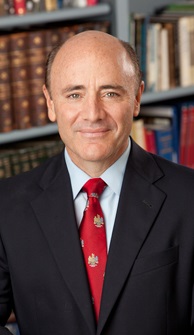 Image: Courtesy of Regent University
Update (Sept. 16): Pat Robertson runs Regent University once again, serving as CEO until the school finds a replacement for Carlos Campo, who replaced Robertson after his 2010 retirement.
-----
Three weeks after school started, Regent University president Carlos Campo resigned Friday, effectively immediately.
"It's not the result of any moral or fiscal issue on my part or the university," Campo told The Virginian-Pilot, which broke the news. (The Associated Press also reported the resignation.)
Campo, who replaced Pat Robertson in 2010 and was the first Latino president of a regionally accredited Christian university in the United States, stated in a press release:
"I am blessed and honored to have served as President of Regent University. It's been a privilege to work with the staff, faculty and board to serve our students. I would also like to thank the great people of Hampton Roads who have made us feel so welcome in this community."
In the same release, Regent board chair Daniel Sellers stated:
"We are very appreciative of Carlos' work these past five years and in particular, his role in developing new partnerships and friendships at the local, national and global level. The board is grateful for his endeavors which have enhanced our community."
Campo challenged a CT report on whether Regent was struggling to stay afloat, and contributed to CT's debate on whether motive matters if a ministry is doing good deeds.
CT noted Campo's key role in why Latino enrollments are now on the rise.