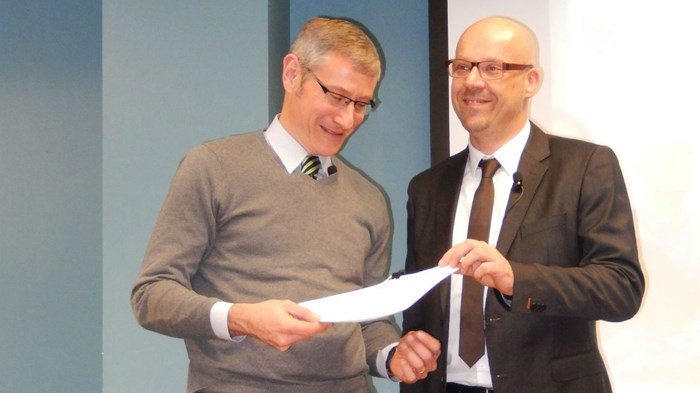 Image: Courtesy of World Relief
Two influential poverty-fighting agencies are taking their efforts to the next level. To serve impoverished peoples more effectively, World Relief today announced plans to join forces with another, considerably smaller, Christian nonprofit—Germany-based PartnerAid.
Since its beginning in 1998, PartnerAid has worked in nine countries in North Africa and Asia to fight chronic poverty and provide disaster relief: Sudan, Somalia, Pakistan, Tajikistan, Kyrgyzstan, Tanzania, Ethiopia, Indonesia, and Yemen. Currently working in six of those countries, the German organization will be affiliated under the U.S. World Relief brand.
"For us, it was important to find a partner that fits our mission, that can add to our capacity and what we feel is important to us. That is what we found in World Relief," said Jochen Schmidt, CEO of PartnerAid.
For PartnerAid, World Relief's involvement in more than 20 countries will broaden its capacity for further outreach, while also gaining access to a larger base for support. Meanwhile, World Relief will gain a presence in Europe it has long desired, as well as contacts in high-risk countries—like Somalia—where PartnerAid works. World Relief has extensive experience to share in dealing with refugees and refugee resettlement, using its local church network. PartnerAid's new title, World Relief Germany, will not detract from functioning independently from the main U.S. branch of the organization.
PartnerAid—whose total revenue during the 2012 fiscal year was $2,971,777—will raise its own funding and keep separate finances. And although the nonprofit receives funding and grants from USAID, UNICEF, and other public funding, PartnerAid will focus on raising private and donor-based funds, especially from German churches.
Stephan Bauman, president and CEO of World Relief, said PartnerAid needed a small amount of funding for the next few years that World Relief—whose total support and revenue for the 2013 fiscal year was $60,120,871—will provide.
"Part of that's an investment in their capacity to raise not just public fund grants, but also private funds from the German church and German donors," said Bauman. "That's an exciting thing to work together in building and strengthening their donor base for their portfolio of countries."
Mergers between humanitarian aid organizations are not uncommon, says Jamie Aten, Ph.D. and founder and co-director of Wheaton College's Humanitarian Disaster Institute.
"I think this is going to be a very positive merger," he said. "The work of PartnerAid in Africa compliments nicely the ongoing work that World Relief has going on there. I think a major cornerstone of both organizations has been collaboration."
While Bauman and Schmidt attest to the synergistic quality of the two organization's relationship, differences do exist. World Relief, for example, prioritizes the partnership through local churches in the countries they work in. PartnerAid works in countries where a local church has not always been a reality.
"We believe strongly that where World Relief U.S. works—predominantly Christian contexts—this is a very good way to strengthen and to empower the local church and to work with the churches. Where we are able to do that, we will do that. Where we're not able to do that, we will find other ways to engage communities and to seek empowerment," said Schmidt.
Going forward, immigration will become a key strategic priority for both organizations. World Relief has been involved in empowering local U.S. churches to embrace refugees and immigrants in 26 U.S. locations. PartnerAid hopes to implement similar strategies in Germany, which has a large population of immigrants.
"Through this affiliation our brothers and sisters in Germany— evangelicals in the German church—actually can take a step into the complicated issues of immigration, and yet approach the issue from a biblical perspective," said Bauman. "It's an exciting thing that we didn't expect to be discussing as a result of our affiliation, but it's one of the most important things to our counterparts in Germany."
Other future projects include both organizations' involvement in Syria. As the Syrian crisis persists, the organizations will have the chance to demonstrate how their complementary strengths suit each other in a complex disaster zone.
"PartnerAid has a strong capacity in water and sanitation," said Bauman. "There are things we can learn from them. Conversely, we have a stronger capacity in community health projects, and maybe a bit more on the economic side, particularly the banking sector and microfinance."
In addition, leaders at both organizations have begun conversations about merging PartnerAid's affiliates in Switzerland, the United Kingdom, and the Netherlands with World Relief.
Dale Hanson Bourke, president of PDI and author of The Skeptic's Guide to Global Poverty, spoke positively about the partnership between the two organizations.
"This reflects the increasing globalization of relief & development and the understanding that we are stronger in our response when we include those who sit in a different spot in the world," she said.
CT regularly reports on World Relief, including its work among Iraqi and Burmese refugees in the U.S. and how immigrants create a new mission field for churches.