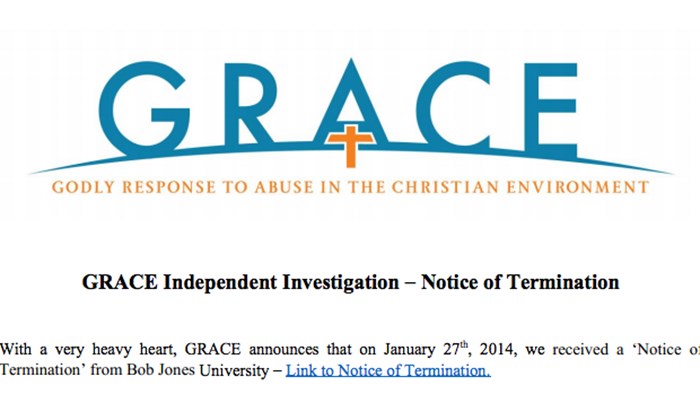 Image: Courtesy of GRACE
Update (Feb. 25): BJU will allow GRACE to complete the investigation after all.
-----
Update (Feb. 13): BJU and GRACE have agreed to meet next week "to discuss the concerns of both parties and determine a plan for moving forward." BJU states:
Bob Jones University and GRACE remain hopeful this project can be completed with GRACE and in so doing raise sexual abuse awareness and minister to victims whose lives have been ravaged by abuse.
GRACE states:
The purpose of this meeting is for the parties to articulate expressed concerns, as well as to dialogue about the possibility of GRACE completing the independent investigation process started last year.... We ask for prayers for everyone involved in this upcoming meeting. We also ask that we continue to pray for God to work mightily on the behalf of all the amazing individuals who have been impacted by this most recent development.
-----
Update (Feb. 12): The New York Times offers a lengthy look at BJU's decision ...
1