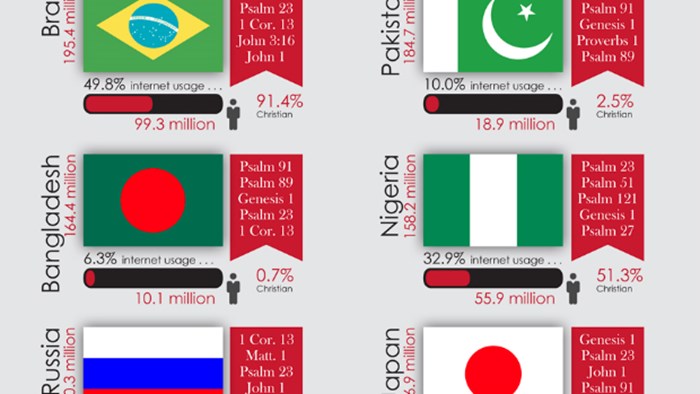 Image: Bible Gateway - GMI
Which Bible verses are searched for most often in the world's 10 most populous countries? Psalm 23, Genesis 1, and 1 Corinthians 13, according to the world's leading Bible website.
Yet China, India, the United States, Indonesia, Brazil, Pakistan, Bangladesh, Nigeria, Russia, and Japan each search the Bible differently, according to a new study of 2013 visits to BibleGateway.com in conjunction with GMI. [Infographic below]
Psalm 23 appeared in the top five searches in nine of the 10 countries, followed closely by Genesis 1 in eight of the 10, and 1 Corinthians 13 in seven of the 10. When looking for a book of the Bible, people begin at the beginning: "Chapter 1" appears in more than 30 percent of Bible Gateway's searches. (CT previously reported that John 3:16 topped the list of searches for individual verses in 2013.)
Two of the four "implications of the search for truth" noted in the study: Are pastors and missionaries preaching too much from Paul? ...
1