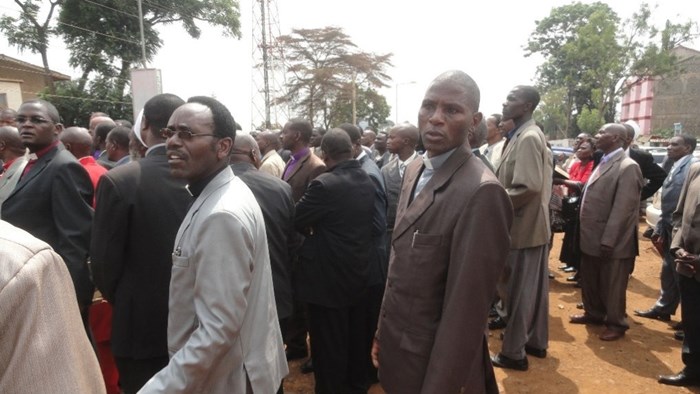 Image: Courtesy of World Watch Monitor
Hundreds of pastors in Central Kenya confronted a county governor last week to protest against a new bill that could see clergy charged for preaching outside of their churches.
The pastors, who say they represent as many as 1,200 churches within Nyeri County, marched to the governor's office on February 12 to protest against the Nyeri County Finance Bill, which includes a section on charging preachers for speaking in public.
The bill, which is yet to be debated by the local government or signed by the county governor, states that clergy must pay 10,000 Kenyan shillings (approximately $117) per day to preach inside a stadium, 8,000 KES ($93) outside a stadium and 5,000 ($58) in rural areas.
Charles Muchiri, priest of St. Peter's Catholic Church in Ruiru, near Nairobi, and chairman of the 300 pastors, said that churches should not be commercialised and treated like businesses, and that the bill would leave clergy dependent upon funds to reach beyond their churches.
"The services rendered by the church to the people are free and such a high tax imposition will greatly affect the spreading of the gospel," he said.
In Kenya, it is common for churches to hold evangelical events in stadiums that can last from three days to a full week.
The Nyeri governor, Nderitu Gachagua, was out of office on the day of the protest, but the bishops were addressed by finance executive Martin Wamwea, who promised a response from the County Assembly Finance Committee within seven working days.
Nyeri is not the first of Kenya's 47 counties to consider such measures. Nairobi County proposed a similar law last year that would charge clergy for the use of public parks.
The two largest parks in Kenya's capital, Uhuru and Kamukunji, are popular venues for evangelical meetings. But under the proposed law churches could be forced to pay 50,000 KES ($580) per day to preach from the main stand or 40,000 KES ($463) elsewhere in the park. Under Nairobi's proposed bill, street evangelists would also be forced to pay 2,500 ($29) to preach.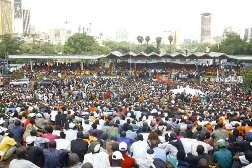 Image: World Watch Monitor
Similar proposals were made in Busia County in Western Kenya, but the bill was dropped after protests from clergy.
Recent reports claimed that one pastor had been charging 1,500 KES ($18) for the promise of salvation, while another reportedly sold holy oil for money.
Christians in Kenya are divided on the issue. Some argue that it is wrong to charge preachers, but others say clerics should pay the fees, a view that is bolstered by reports that clergy have been exploiting their positions to make money.
[Editor's note: Kenyan police are also cracking down on street preaching by Christians and Muslims alike in Garissa, where CT previously reported the rising violence of al-Shabaab's Islamist extremists. Authorities are concerned that the gatherings can easily cause religious strife and even violence among the various sects. CT also reported on grenade attacks at a prayer rally in Uhuru Park that Kenyan Christians claimed were a government plot.]