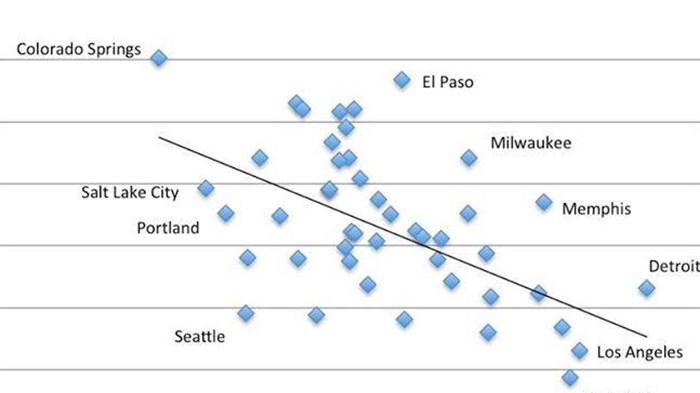 Image: Courtesy of Facebook
Which U.S. city offers singles the best chance at forming a relationship? According to Facebook: Colorado Springs.
While the social network's latest research may not prove useful until next Valentines Day, this week Facebook examined what its vast pool of user data reveals about dating and love among members.
Here are Facebook's top five cities with the "largest probability of relationship formation":
1. Colorado Springs, CO
2. El Paso, TX
3. Louisville, KY
4. Fort Worth, TX
5. San Antonio, TX
Facebook attributes this to the low percentage of singles in Colorado Springs, known as an evangelical stronghold. "In a city where everyone is paired up, the incentive to pair up is even stronger," notes its data science team.
By comparison, the top five cities with the highest percentage of single people:
1. Detroit, MI
2. Los Angeles, CA
3. New York, NY
4. Miami, FL
5. Memphis, TN
A previous Facebook study found that 11 Christian colleges ...
1