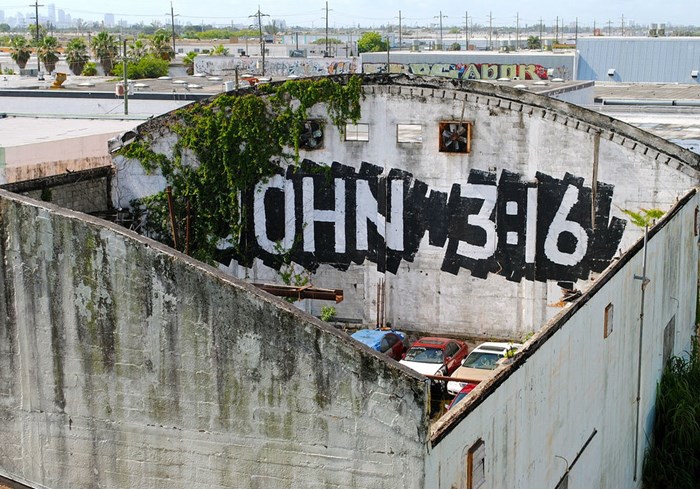 Image: Bob B. Brown/Flickr
John 3:16 may not be among the top Bible verses people are sharing with others worldwide. But it does top the list of Bible verses people from 242 countries and territories are seeking out.
Bible Gateway reports visitors spent more than 76 million hours on BibleGateway.com in 2013, tallying 456 million visits and 1.5 billion pageviews.
The site's top 10 searches for Bible verses last year:
1. John 3:16
2. Jeremiah 29:11
3. Philippians 4:13
4. Romans 8:28
5. Psalm 23
6. Proverbs 3:5-6
7. 1 Corinthians 13:4-7
8. Romans 12:2
9. Philippians 4:6
10. Joshua 1:9
By contrast, YouVersion's top 10 list of Bible verses shared in 2013—with Psalm 118:24 at No. 1 ("This is the day that the Lord has made: let us rejoice and be glad in it")—doesn't even include John 3:16.
In fact, only one verse matches: Joshua 1:9. (However, Philippians 4:13 and Philippians 4:6 do appear on YouVersion's list of the top five most-read verses—as does Joshua 1:9.)
In addition, Bible Gateway also noted the top 10 countries where visitors were from: the United States, the United Kingdom, Canada, Australia, Mexico, the Philippines, Colombia, Singapore, and South Africa.
All told, visitors came from 242 countries or territories, including Vatican City, China, Vietnam, Cuba, and North Korea.
Slightly more men than women use BibleGateway.com, and millennials (ages 13-34) made up the majority of users. The site has previously used its massive statistics to explore the top Bible verses of 2012, 2011 and 2010, and 2009 (plus by major cities), as well as the differences in how people share the Bible vs. read the Bible.
Last year, CT noted how the Web's most-popular Bible verses match up—except for John 3:16. CT previously reported why Zondervan bought BibleGateway.com, as well as the favorite Bible verses of Barack Obama and Mitt Romney.
(Image courtesy of Bob B. Brown - Flickr)