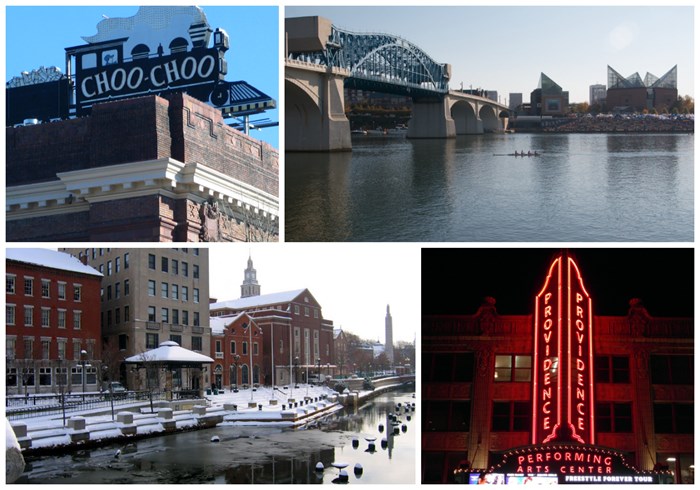 Image: Courtesy of Flickr
Update: One theory as to why certain cities "embrace the Bible" more than others: 19 of the top 20 most "Bible-minded" cities host sizable Christian colleges. (List added below.)
-----
For the second time, the American Bible Society (ABS) has partnered with The Barna Group to identify America's most "Bible-minded" cities, based on "combined levels of regular Bible reading and belief in the Bible's accuracy." (Full list of 100 cities is below.)
After interviewing more than 46,000 adults nationwide over a seven-year period, their No. 1 pick? Chattanooga, Tenn., which ranked third in last year's inaugural list.
ABS notes:
An inverse relationship exists between population density and Bible friendliness. Of the top 25 Bible-minded markets, only three have a population of greater than 1 million households: Charlotte, N.C.; Nashville, Tenn.; and Dallas.
The complete Top 10:
10. Knoxville, Tenn.
9. Jackson, Miss.
8. Little Rock, Ark.
7. Greenville/Spartanburg, S.C./Asheville N.C.
6. Charlotte, N.C.
5. Shreveport, La.
4. Springfield, Mo.
3. Roanoke/Lynchburg, Va.
2. Birmingham, Ala.
1. Chattanooga, Tenn.
By contrast, the least Bible-minded cities:
10. Portland, Maine
9. Burlington, Vt.
8. Phoenix, Ariz.
7. Hartford/New Haven, Conn.
6. Buffalo, N.Y
5. Cedar Rapids, Iowa
4. San Francisco
3. Boston, Mass.
2. Albany, N.Y.
1. Providence, R.I./ New Bedford, Mass.
Barna identifies "Bible minded" people as "respondents who report reading the bible within the past seven days and who agree strongly in the accuracy of the Bible."
CT noted last year's top and bottom cities (sorry, Colorado Springs), as well as contrasted Barna's list with Gallup's list of America's most religious cities and a separate ranking of America's most saintly cities.
ABS/Barna's full ranking of 100 cities is below. Of interest: 19 of the top 20 cities are Christian college towns, including but not limited to (per collegestats.org):
| | | | |
| --- | --- | --- | --- |
| City | Institution Name | Religious Affiliation | Students |
| Chattanooga | Tennessee Temple University | Baptist | 885 |
| Birmingham | Samford University | Baptist | 4,758 |
| Lynchburg | Liberty University | Baptist | 64,096 |
| Springfield | Evangel University | Assemblies of God Church | 2,168 |
| Shreveport | Centenary College of Louisiana | United Methodist | 891 |
| Charlotte | Queens University of Charlotte | Presbyterian Church (USA) | 2,491 |
| Spartanburg | Wofford College | United Methodist | 1,568 |
| Little Rock | Arkansas Baptist College | Baptist | 1,193 |
| Jackson | Belhaven University | Presbyterian Church (USA) | 3,071 |
| Knoxville | Johnson University | Christian Churches/Churches of Christ | 1,031 |
| Charleston | University of Charleston | Baptist | 1090 |
| Huntsville | Oakwood University | Seventh Day Adventists | 2,006 |
| Nashville | Belmont University | Interdenominational | 6,395 |
| Nashville | Lipscomb University | Churches of Christ | 4,010 |
| Nashville | Trevecca Nazarene University | Church of the Nazarene | 2,478 |
| Lexington | Transylvania University | Disciples of Christ | 1,023 |
| Wichita | Newman University | Roman Catholic | 3,021 |
| Oklahoma City | Mid-America Christian University | Church of God | 2,255 |
| Oklahoma City | Oklahoma City University | United Methodist | 3,575 |
| Louisville | Bellarmine University | Roman Catholic | 3,432 |
| Louisville | Spalding University | Roman Catholic | 2,432 |
| Louisville | Southern Baptist Theological Seminary | Southern Baptist | 3,137 |
| Jacksonville | Edward Waters College | African Methodist Episcopal | 751 |
| Jacksonville | Trinity Baptist College | Baptist | 278 |
| Greensboro | Greensboro College | United Methodist | 1,200 |
| High Point | High Point University | United Methodist | 4,205 |
| Winston Salem | Salem College | Moravian Church | 1,130 |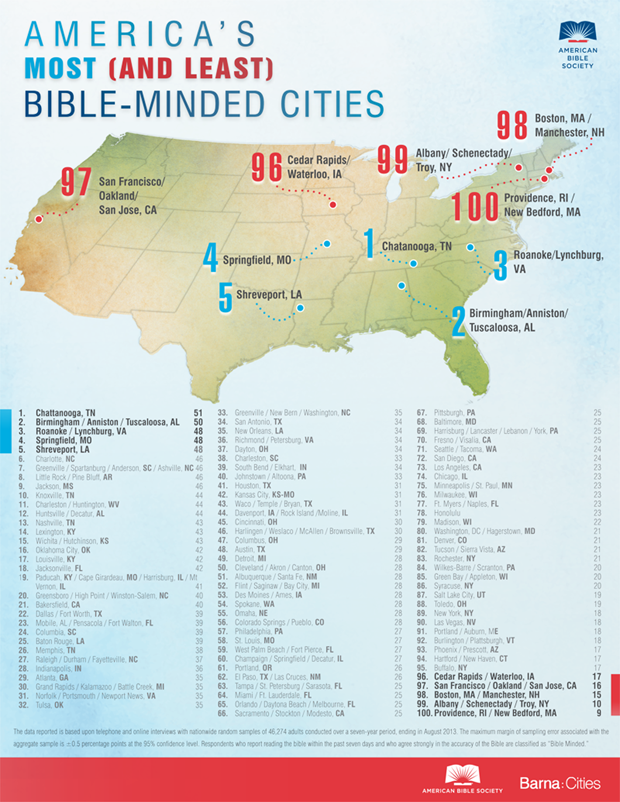 Image: Courtesy of American Bible Society
(Chattanooga images courtesy of SeeMidTN.com and hankinsphoto.com - Flickr)
(Providence images courtesy of Jef Nickerson and Reading Tom - Flickr)