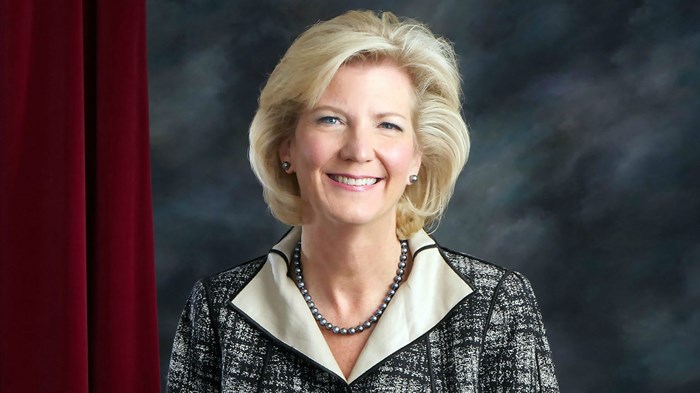 Image: Courtesy of CCCU
America's leading advocate for Christian colleges has chosen its first female president.
The Council for Christian Colleges and Universities (CCCU) has elected Shirley V. Hoogstra of Calvin College to lead the Washington, D.C.-based association. Approximately 9 of its 175 member institutions are currently led by women. Hoogstra, who has served as Calvin's vice president for student life since 1999, will take office September 29.
Hoogstra has a background in law, which she practiced in Connecticut for 13 years. This makes her an ideal candidate to navigate the shifting issues of Christian higher education, according to Andrea P. Cook, chair of the presidential search committee and president of Warner Pacific College.
"It is imperative that CCCU institutions are represented by a leader passionate about our mission, savvy when considering legal and political liabilities, and grounded in Christ," said Cook. "Shirley is all of these, and I have full confidence that she is the right person to lead us in such a time as this."
Hoogstra is entering office after a turbulent year for the CCCU. CT reported how the CCCU ousted its previous president, Edward O. Blews Jr., last October after only 10 months on the job. Blews then filed a lawsuit against the institution in February, claiming the CCCU owed him more than $2 million for breaching his five-year contract.
"I'm excited for this opportunity because I am passionate about Christian education generally and Christian higher education specifically," Hoogstra said. "The world is increasingly complex, and the liberal arts education that CCCU institutions offer prepares students to understand why faith deeply matters to people. And the Christian faith gives hope and meaning when hope and meaning in life can seem illusive."
During her time at Calvin, Hoogstra volunteered at the CCCU on several of its Leadership Development Institutes, and served on two CCCU commissions as an officer. Charles W. Pollard, chair of the CCCU Board of Directors and president of John Brown University, said this experience makes Hoogstra an ideal candidate because she already knows the "heartbeat of the organization."
"Moreover, she is a person of deep faith, humble courage, intuitive judgment, legal insight and convicted civility, characteristics that will enable her to represent the CCCU winsomely and effectively in Washington and elsewhere," said Pollard.
CT regularly reports on the CCCU and its schools, including recent public scrutiny over LGBT hiring policies at Gordon College, housing policies for transgender students at George Fox University and California Baptist University, and how Eastern Mennonite University is considering hiring professors in same-sex relationships.
CT also reports on women in leadership, including what the largest study of female leaders at evangelical institutions has found so far.