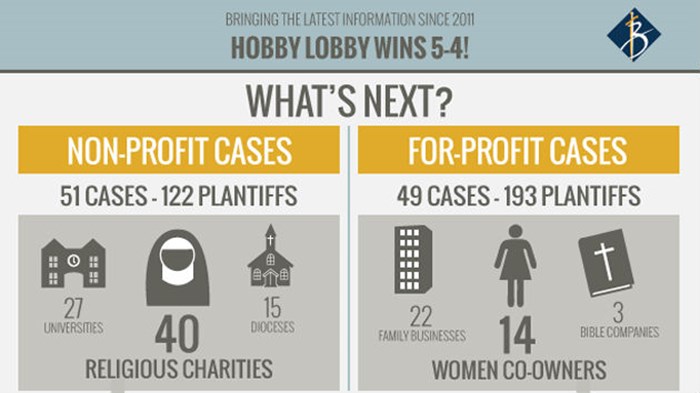 Image: Courtesy of the Becket Fund
Just hours after the Supreme Court's 5-4 decision for Hobby Lobby and fewer than 24 before the IRS could fine several corporations for HHS mandate violations, federal circuit courts granted last minute relief to Wheaton College and six Catholic organizations, including a television network, a college, and a children's home.
At least 50 cases involving nonprofit organizations, many of which had been on hold, should be affected by the Supreme Court's narrow decision to side with Hobby Lobby and Conestoga Wood Specialties in the debate over whether they should be required to pay for some forms of birth control that are possible abortifacients, according to the Becket Fund. A total of one hundred cases, involving both nonprofit and for-profit firms, have challenged the HHS mandate, which requires employers with more than 50 employees to provide health care insurance including 20 kinds of contraception.
Some cases ask for broader exceptions than Hobby Lobby and Conestoga did. For instance, the court document granting an injunction to the Catholic Eternal Word Television Network (EWTN) notes that "The Network refuses to provide, subsidize, or support health insurance that in any way encourages the use of artificial contraception, sterilization, or abortion, all of which it considers 'grave sin.'"
"Just as the for-profit company known as the New York Times enjoys the right to freedom of the press under the First Amendment, so Hobby Lobby enjoys the right to religious freedom protected by RFRA," says Robert George, McCormick Professor of Jurisprudence at Princeton University. "Protection for religious liberty doesn't stop where commerce begins."
Wheaton and the Catholic organizations — EWTN, Catholic Diocese of Cheyenne, Catholic Charities of Wyoming, St. Joseph's Children's Home, St. Anthony Tri-Parish Catholic School, and Wyoming Catholic College — are all protected with temporary injunctions that prevent the government from fining them while they argue their cases in court.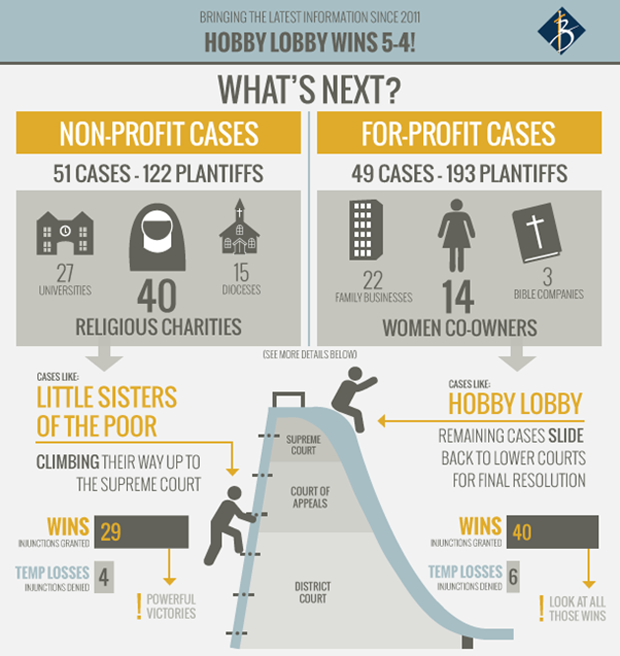 Image: Courtesy of the Becket Fund
Citing the Hobby Lobby ruling in the decision to grant an injunction to EWTN, Eleventh Circuit Court Judge Martin Pryor notes in a concurring opinion that "the Network is substantially likely to succeed on the merits of its appeal," and that "it is not for us [the courts] to say that the line drawn by the religious believer was an unreasonable one. Courts should not undertake to dissect religious beliefs."
While the Supreme Court decision was directed towards for-profit "closely held" firms, experts don't anticipate much confusion over this boundary, as the IRS already imposes different tax and reporting rules on these organizations. The IRS considers a corporation closely held if five or fewer people held more than 50 percent of its outstanding stock value over the past six months.
The ruling has passionate supporters and critics. Russell Moore, president of the Southern Baptist Convention's Ethics and Religious Liberty Commission, said, "This is as close as a Southern Baptist gets to dancing in the streets for joy," calling it "a win for everyone."
Hillary Clinton and Nancy Pelosi, on the other hand, are calling the decision a "war on women." But not all media coverage is falling in line with that view, with responses like "Nothing But Good News for Women" at U.S. News and World Report and The Supreme Court Isn't Waging a War on Women in Hobby Lobby at The Atlantic.
CT covered the decision and contrasted it with the unanimous decision last Friday to preserve free speech rights around abortion clinics. On his blog at CT, Ed Stetzer asked where we go from here.
Jonathan Merritt identifies four major upcoming issues for religious liberty, including service at gay weddings (CT previously asked if Jesus would bake a cake for a gay wedding). His first item touches on the next battle over aspects of the HHS mandate: the Little Sisters of the Poor. This international order of Catholic nuns represent a much larger group of nonprofit ministries that are challenging the same mandate as Hobby Lobby. Their case is currently before the 10th Circuit Court of Appeals in Denver.
CT has previously covered Hobby Lobby, contraception, and health care reform.