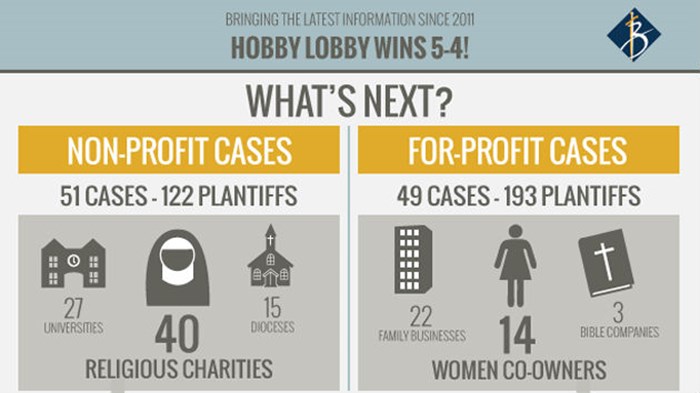 Image: Courtesy of the Becket Fund
Just hours after the Supreme Court's 5-4 decision for Hobby Lobby and fewer than 24 before the IRS could fine several corporations for HHS mandate violations, federal circuit courts granted last minute relief to Wheaton College and six Catholic organizations, including a television network, a college, and a children's home.
At least 50 cases involving nonprofit organizations, many of which had been on hold, should be affected by the Supreme Court's narrow decision to side with Hobby Lobby and Conestoga Wood Specialties in the debate over whether they should be required to pay for some forms of birth control that are possible abortifacients, according to the Becket Fund. A total of one hundred cases, involving both nonprofit and for-profit firms, have challenged the HHS mandate, which requires employers with more than 50 employees to provide health care insurance including 20 kinds of contraception.
Some cases ask for broader exceptions than Hobby Lobby and Conestoga ...
1