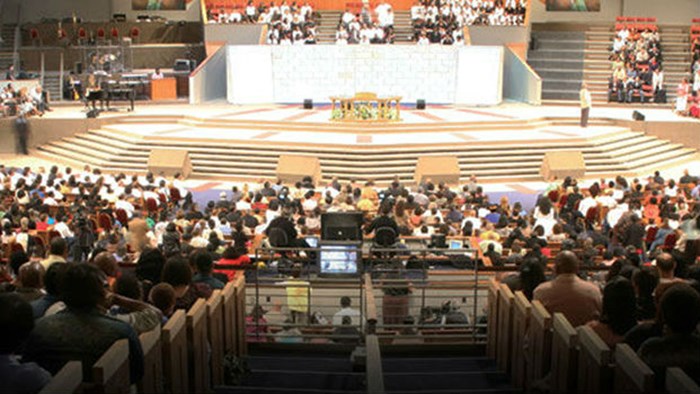 Image: The Potter's House
A self-styled "socially conscious investor" who took his "Building Wealth Tour" to churches across America has been indicted on charges of defrauding investors of more than $5 million.
Ephren Taylor II is accused of participating in a conspiracy to defraud investors from April 2009 through October 2010, according to the U.S. attorney's office in northern Georgia. As part of the alleged scheme, Taylor traveled around the country delivering wealth management seminars to church congregations, claiming that 20 percent of his profits were donated to charity. According to the attorney's office:
The investments pushed by Taylor included investing in promissory notes, where the funds invested would be used to support small businesses, such as laundries, juice bars, and gas stations. Taylor is alleged to have falsely represented the revenues and returns for these businesses knowing that they were not profitable.

Taylor also pushed an investment in sweepstakes machines. Sweepstakes machines are computers loaded with various games that allow players to win cash prizes. Taylor published offering materials that falsely claimed the average sweepstakes machine would generate 300 percent investor returns. He also stated that the sweepstakes machine investments were 100 percent risk free.

Taylor allegedly knew that the investments he was touting were not profitable and that investors were not receiving actual returns from their investments.
Taylor's scheme affected Christians in several states, according to an ABC report. In Houston, he spoke in a small group at Joel Osteen's Lakewood Church, America's largest congregation. In Georgia, Taylor visited 12,000-member New Birth Missionary Baptist Church in Lithonia, where head pastor Eddie Long recently settled a civil suit with 13 members who claimed Long allowed Taylor to visit the church even though he knew about Taylor's questionable investment recommendations.
Those 13 members claimed they lost nearly $1 million in Taylor's Ponzi schemes, and that Long endorsed Taylor as a "friend" and "brother" when he visited in October 2009, according to the Christian Post.
"We're going to show you how to get wealth and use it for the building of his kingdom," Taylor announces in an ABC video about the event.
A court document filed by the U.S. Securities and Exchange Commission in 2012 accused Taylor of operating "a Ponzi scheme to swindle over $11 million, primarily from African-American churchgoers." According to the document:
Taylor strenuously cultivated an image of a highly successful and socially conscious entrepreneur. Marketing himself as "The Social Capitalist," he touted equally his status as the youngest black CEO of a public company and the son of a Christian minister who understands the importance of "giving back." Taylor has authored three books and made public appearances on such television programs as The Montel Williams Show and The Donnie Deutsch Show.
Taylor allegedly used some of the funds to finance his wife Meshelle Taylor's music career, including several music videos, ABC reports.
Taylor's case is under investigation by the IRS and the Secret Service. He was indicted by a grand jury on June 10.
CT has previously reported on protecting churches from affinity fraud, including Ponzi schemes.